First Communion is often the first time that a child truly understands the impact of God's presence in their life. This solid foundation of faith is more important than ever as the 21st century throws in the distractions of modern technology with the usual curve balls encountered during the teen years and beyond. Encouraging a healthy relationship with Christ makes it easier for our children to choose right over wrong as they move through their inevitable challenges. Therefore, it's especially important to convey your deep respect for Holy Communion with thoughtful gifts and meaningful traditions.
"For the bread of God is the bread that comes down from Heaven and gives life to the world." John 6:33
First Communion Preparation: The First Confession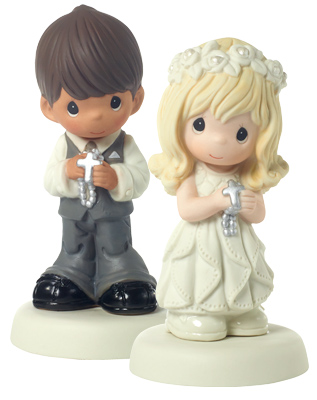 While we know that confession is good for the soul, the sacrament of reconciliation can be quite intimidating to a 7 or 8-year-old child. It's helpful to remember that children often see their priest as a direct messenger from God, who is here to judge them. You can help your child by encouraging them to give voice to the fear of judgment that many of us remember. While that fear may be about a particular "sin", it could also be a fear of "doing it wrong"- making an unforgivable misstep in their meeting with the priest. Since these fears can be remedied with education and practice, it is not that hard to help your child feel better about this important first step.
Reassure your child about God's profound love. You can start by reading a child friendly version of Bible verses about love and God's beautiful view of children.
"Keep yourselves in God's love as you wait for the mercy of our Lord Jesus Christ to bring you to eternal life." – Jude 1:21

"Let the little children come to me. Don't stop them, because the kingdom of Heaven belongs to people who are like these children."- Matthew 19:14
Explain that God loves us more than we can imagine. He wants us to confess, not to make us feel bad, but to make it possible for Him to forgive us completely. For further proof of God's profound love for children, you can read Matthew 18:3.
"Truly I tell you, unless you change and become like little children, you will never enter the kingdom of Heaven." -Matthew 18:3
Now that your child feels more confident, you can offer to practice confession with them and encourage them to pray for God's guidance and protection, as they get ready for the first step on the way to their Holy Communion.
Remind your child that while telling the whole truth is not always easy, it is important so that we can participate in First Communion with a pure heart. Let them know that you truly believe in them. God is always ready to hear our confessions and forgive our sins as long as we approach the task with sincere faith. The priest listens to our confessions not to learn about what we did wrong, but so that we can receive our prayer penance and get closer to God.
Finally, be sure to celebrate their courage and their honesty with gifts that remind them to rely on God's love and the wisdom of the Bible in challenging times.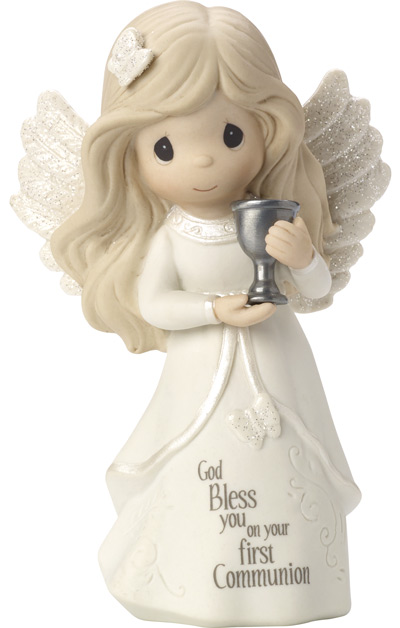 First Communion
"At the heart of my joyful and beautiful memories is this one…I understood that Jesus had entered my heart, He had actually visited me. And with Jesus, God himself was with me. And I realized that this is a gift of love that is truly worth more than all the other things that life can give. So on that day I was really filled with great joy, because Jesus came to me and I realized that a new stage in my life was beginning, I was 9 years old, and that it was henceforth important to stay faithful to that encounter, to that communion. I promised the Lord as best I could: 'I always want to stay with you', and I prayed to him, 'but above all, stay with me.'" - Pope Benedict XVI
Catholics traditionally offer First Communion around the age of 7 or 8 because many people believe that this is the age at which a child can not only discern right from wrong, but they can also understand the concepts of morality, sin and redemption. Children at this age can participate in the disciplines of short fasting, confession and prayerful stillness, which makes them ready to partake in Holy Communion with the rest of the congregation.
Christian faiths offer first communion at many different ages, but all parents and children appreciate the celebration of this milestone with thoughtful gifts and traditions.
"During my preparation for my first Holy Communion in the 1950s, the parish priest explained to the children that when he reached into the tabernacle he was reaching into Heaven because the Son of God was there. It was such an awesome description that I have never forgotten it." - Anonymous
Sharing The Story Of The Last Supper
A wonderful way to prepare for First Communion is to tell the story of the Last Supper while the family is gathered around the dinner table. As you break bread and drink grape juice, ask questions that help your child relate personally to the story:
"What would you say if Jesus sat down with us right now? Ho
w do you think he felt about the great sacrifice he was about to make?"
Then, teach your child three important things to remember on the day of their First Communion:
Jesus commanded us to remember Him when we partake in Communion. We remember Jesus by learning about His story and by praying before and after we receive our Communion. Take time with your child to memorize the special prayers recommended by your church.
Remind your child of the words of Jesus at the end of the Last Supper. "Where I am going, you cannot come. A new commandment I give you; Love one another. As I have loved you, so you must also love one another." Encourage them with gifts that remind them to think of ways to help others in the name of Jesus Christ. Tell them in a gentle way that Jesus gave His life so that our sins could be forgiven. As faithful communicants, we promise to live our lives according to His teachings.
Explain to your child that Communion wafers are not just symbols of Christ, but actually Christ Himself. By partaking in this sacred ritual, your child is truly becoming one with the Lord.
Finally, commemorate your child's First Holy Communion with gifts and celebrations that truly support their relationship with God. Our figurines make beautiful cake toppers too.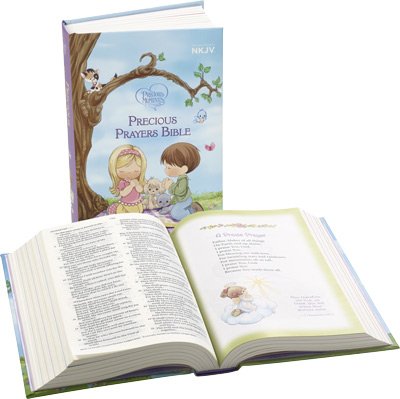 Holy Bibles and Books
Our Holy Bibles and Books make lovely First Communion gifts for all Christian children. You can start early by reading Bible stories made for small children at bedtime. As children grow, consider turning the radio off to pray together for a moment or two and talk about the Bible on the way to sports practice or play dates. Tell them about the special nature of their First Communion Bible and why you are giving it to them. This gift is probably the most appreciated gift of all, as you are literally giving a child personal access to God's holy words.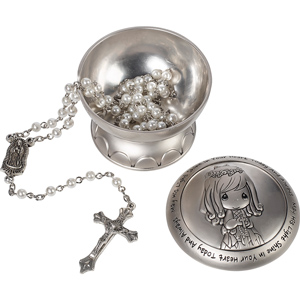 First Communion Rosary
First Communion is also the perfect time to give your child their first rosary. You can help them get ready for this gift by reciting the rosary with them until they memorize the rosary prayers. Remind them that the rosary is not jewelry, but rather a sacred tool to be used for prayer. They should treat this special gift with proper reverence and never use it to "show off" or decorate.
Since praying the rosary is vital to a faithful life for many Christian faiths, it is a good idea to ask your child to think about all the reasons that we pray. Help them with a list of family members, pets, friends and teachers. Inspire your child to give thanks and pray for all the people that help us. Remind them about the farmers that grow our food, the clerks who ring up our orders and the printers who create their bible storybooks. These conversations offer children the invaluable gift of endless reasons to say prayers that they can use for a lifetime.
You can also encourage a child's interest with the fascinating history of the holy rosary, or the miraculous story of Our Lady Of Fatima. Remind them that the Mother of God entrusted children just like them with her profound words about daily rosary prayer.
"Families that pray together, stay together." - Father Patrick Peyton
It's fun to tell your children the story of Father Patrick Peyton. This Catholic priest was motivated by faith to inspire millions of people to pray in rosary rallies around the world.
Most of all, be sure to encourage daily Rosary Prayer as a faithful habit that supports your child's faith journey.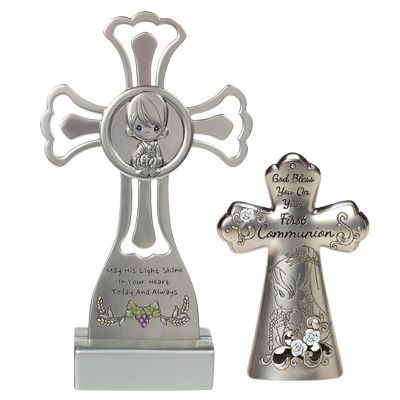 First Communion Crosses
Add deeper meaning to your Holy Communion Cross with stories. Even small children can learn to use their cross as a signal to slow down and pray; a quick thank you is just perfect as they rush through their day. Another way to encourage a prayer break is to tell the story of unleavened bread. Under threat of capture, Christ and His followers could not wait long enough for bread to rise. Encourage your child to be thankful for the fact that we have plenty of time for meals and prayers. The whole family can consider the Lord's sacrifices on our behalf each and every time they see the communion cross.
Photo Frames
Capture the celebration with the gift of a keepsake photo frame and keep the precious moment of their Holy Communion forever in your hearts.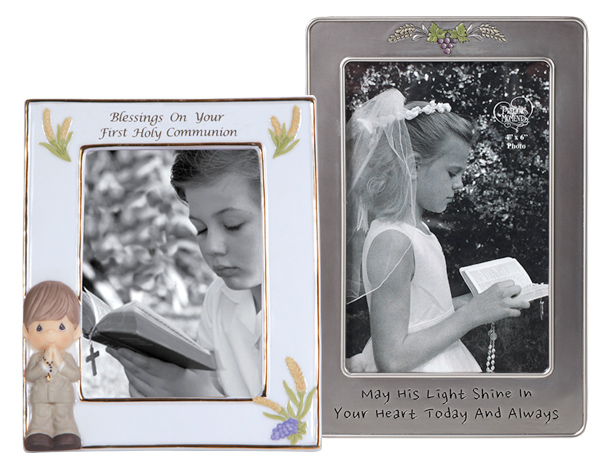 Other Unique First Communion Gifts
It's nice to commemorate the day's events with unique Communion gifts that encourage faith.
Parents, thank you for guiding your children on a religious path through life. And congratulations to the devoted children on this important step in their journey to the heart of our faith!
In conclusion, remember that you are God's child and He ALWAYS loves you.
Thank you for reading this post. Feel free to share this post and share the gift of love. That's how you turn a moment into something precious to remember for a lifetime.
"Christ has no body now on Earth but yours, no hands but yours, no feet but yours. Yours are the eyes through which is to shine Christ's compassion in the world. Yours are the feet through which to go about doing good. Yours are the hands with which He is to bless all people now". - St. Teresa of Avila
Save
Save
Save
Save
Save
Save
Save
Save
Save
Save
Save
Save
Save
Save
Save
Save
Save
Save
Save
Save
Save
Save
Save
Save
Save