Precious Moments 40th Anniversary - Celebrating 40 Years Of Love
Can you believe it? 40 years have passed since our founder, Samuel J. Butcher, first saw the prototype for a Precious Moments figurine! We are so honored to celebrate the Precious Moments 40th Anniversary with you in 2018.
Since 1978, our mission has remained the same:
Make the world a better place by sharing the gift of love. We achieve this mission by loving, caring and sharing.

In addition to our NEW Limited Edition 40th Anniversary figurine, we'll be offering special deals and events to enjoy all year long. You can check our Facebook page for huge savings on our weekly Deal Of The Day and subscribe to our email list for special offers. Also, be sure to visit the Precious Moments Chapel events page for details about our 2018 Collectors' Club Cruise, Family Reunion Event and our annual holiday Lighting Ceremony. Please, join us in celebrating 40 years of Precious Moments in 2018!
Now, let's relax and travel back through time. Enjoy our review as we explore four wonderful decades of Precious Moments.
(If you just can't wait to see, skip to the end of this post for your chance to WIN our NEW 40th Anniversary figurine.)
"I have found that love, above all else, seems to be the key to making the world a better place." - Samuel J. Butcher, Founder, Precious Moments
Precious Moments 40th
Anniversary 1980s: Growing With Love
From the very beginning, love was at the heart of all things Precious Moments. First used for a line of popular greeting cards, Samuel J. Butcher's soulful illustrations were transformed from paper to porcelain in 1978 with the creation of the Original 21 Precious Moments figurines. By the end of that year, this remarkable collection was released for sale, ushering in four decades of continual growth, expansion, and change.
In addition, the Precious Moments Collectors' Club and the famous Precious Moments Chapel in Carthage, Missouri were also created during this time.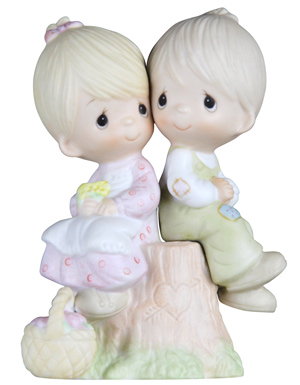 Did you know? Love One Another is the only one of the Original 21 figurines still being produced today!
Precious Moments 40th Anniversary 1990s: Sharing The Dream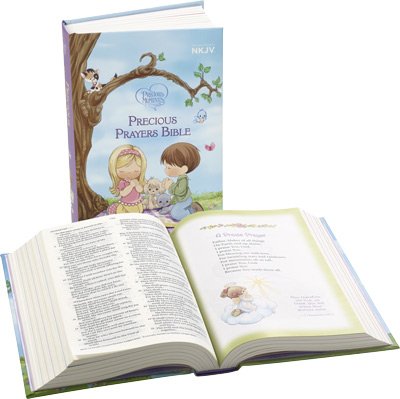 By 1990, Precious Moments figurines had become a worldwide collectible phenomenon. In addition, Mr. Butcher's soulful artwork was licensed to more than 50 major companies.
These licensees used Precious Moments artwork in products ranging from clothes to books. Our Children's International Bible became a #1 bestseller during this decade as well. To this day, Precious Moments books and Bibles continue to inspire children and families around the world.
In addition, Precious Moments began its tradition of philanthropy during this decade by contributing to and partnering with many charitable organizations.
Did you know? Precious Moments is partnering with Feed The Children in 2018. This charity provides backpacks, school supplies and food for children in need.
Precious Moments 40th Anniversary 2000s: Building Family Ties
In the hustle and bustle of the modern world, gifts from Precious Moments serve as beautiful reminders to slow down and appreciate the special bonds we share with family and friends. During the first decade of the 21st century, Like Father Like Son was one of our most popular figurines.
Today, we continue to celebrate the special bonds we share with family members and friends who have become like family to us over the years. In addition, our collections now include a wide variety of figurines and contemporary home décor that reflect and honor all the different ways people define family today.
Finally, this is the decade in which we were honored with the extraordinary opportunity to create and distribute our exclusive Disney Showcase collection!
Did you know? We now have lovely collections of home and garden décor for Mother's Day, and special themed baby gift collections that include piggy banks, nightlights, stuffed animals, photo frames, and more!
Precious Moments 40th Anniversary 2010s: Celebrating Traditions
Even as we expand our product line, we never lose sight of the signature style and superior quality that made us the world's most recognized inspirational brand. Today, we create ways to celebrate special occasions and everyday moments with the same careful attention to quality and detail that was used to create the Original 21 figurines.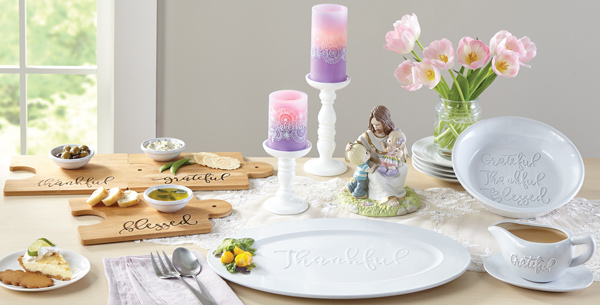 You can see this commitment to excellence in our entirely new Bountiful Blessings collection of tableware and kitchen décor. This collection of farmhouse style home décor is just one example of our current focus on functional and beautiful designs that fit with today's contemporary lifestyles.
When you choose a thoughtful gift from Precious Moments, you are participating in a 40-year long tradition that reminds us each day is really a new chance to celebrate all the precious moments of our lives.
Did you know? We now carry bride and groom cake topper figurines in different skin tones and hair colors that allow you to honor the diversity and unique beauty of each couple's "perfect match".
Precious Moments 40th Anniversary 2018 Blooming With Friendship For 40 Years Limited Edition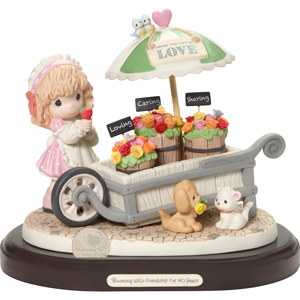 This exclusive edition features a special Precious Moments 40th Anniversary commemorative coin. Strictly limited to one year of production worldwide, this beautiful gift is only available through our catalogs, at PreciousMoments.com, or at the Precious Moments Chapel Gift Shoppe.
This Precious Moments 40th Anniversary figurine features a young Debbie, inspired by the example of Samuel J. Butcher's generous daughter. Adorned in lovely country attire, she shares 40 roses from a flower cart. The bisque porcelain figurine stands on a beautiful wooden base with a title plaque. Thoughtful details include 40 cobblestone hearts and an adorably romantic puppy!
If you'd like to order this truly impressive figurine for your personal collection or as a gift, please click here.
In closing, we want to say thank you for sharing the gift of love with us for 40 years. We hope you have many precious moments to treasure each and every day.
"Precious Moments come, and then they are gone. But if that moment is captured in a figurine it will remain for many years to come." - Samuel J. Butcher, Founder, Precious Moments