1. Fun Easter Recipes – Delicious Easter Traditions
This time of year, you simply can't get too sweet, or too colorful. After all, Easter traditions should be fun! Turn every day treats into Easter delights with these easy ideas.
Pick up some yellow sanding sugar to top off cupcake frosting and be sure to get some pastel food coloring for Easter bunny-shaped pancakes.
While you're at it, make their milk purple too! It just takes a few drops of food coloring. Simple Easter traditions like this make the whole day more fun.
Resurrection Rolls - a Faithful Easter Tradition Idea
This is a fun idea for a sweet treat that also has a message about the meaning of Easter.
The 'magic' is using marshmallows for filling. As the rolls bake, the marshmallow melts, leaving the roll mysteriously empty just like the tomb of Jesus.
Gather 5 simple ingredients:
1 can unbaked refrigerated crescent rolls, 8 large marshmallows, 2 tablespoons sugar, 2 tablespoons cinnamon, 1/2 cup melted butter
Now, hop on over and follow 7 easy steps to make this delicious Easter treat!
1. Follow crescent roll package directions to preheat oven 2. Melt butter, set aside. Mix cinnamon and sugar together in a small bowl. 3. Dip a marshmallow in melted butter and then roll it in the cinnamon sugar mixture (toothpicks can be used to make the rolling a little easier) 4. Place the marshmallow in the center of one or two of the pre-cut dough triangles (you may want more dough if the marshmallows are very large) 5. Wrap the dough around the marshmallow. (Be careful! Pinch the dough together well or the melted marshmallow will leak out.) 6. Bake until golden brown, about 15 minutes (or as package directs). 7. When you cut open the rolls, you'll see they are empty (and delicious)!
*You can find another version of this recipe on AllRecipes.com.
Easter Recipe*: Resurrection Rolls














2. Precious Moments Figurines
These three Precious Moments figurines are so cute!
Add more 'hoppiness' to your Easter celebrations with family and friends.
These Easter decorations look sweet in an Easter centerpiece, too!
Our hand-painted Easter figurines are sculpted in porcelain, so don't give them to young kids! Porcelain figurines do make great hostess gifts and Easter Decorations. They also look adorable in an adult Easter basket. For kid-friendly stuffed animals, click here. For more Easter gift ideas, click here.
If you like a more traditional religious celebration, this stunning Limited Edition figurine depicting Jesus with sweet children is a beautiful way to celebrate the day.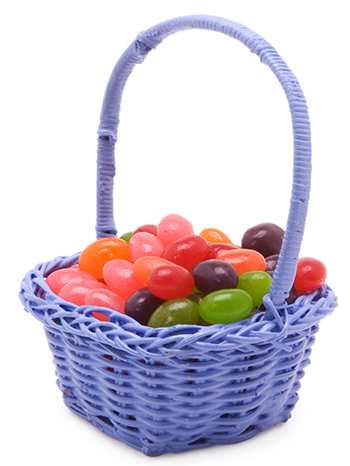 3. Easter Traditions Especially For KIDS
How To Create A Magic Jelly Bean Garden
Gather jelly beans and lollipops or chocolate Easter bunnies. Create a special card from the Easter Bunny.
Include simple instructions for planting the 'magical' jelly beans. Feel free to use the sweet Easter poem below!
Magic Jelly Bean Garden Easter Poem For Kids
It's almost Easter, so let's have some fun Just plant these magic jelly beans one by one Now, cover them with dirt and water them too And they'll grow into Easter surprises for you!
After the little ones are asleep, replace the jelly beans with lollipops or wrapped chocolate Easter bunnies. In addition to sweet treats, you can be creative with keepsakes, toys, and large plastic Easter eggs too. (plastic eggs can be "grown up" jelly beans with Easter gifts and surprises inside)
On Easter morning, the kids will see their 'magic' jelly beans bloomed into wonderful Easter treats!
For a 'picture perfect simple tradition, print out some cute Easter bunny images. Then, place them in photo frames over the original family photos or pictures. Tell the kids the Easter bunny played a joke on the family!
4. 40-Day Easter Countdown
Why wait for Christmas to enjoy a countdown? After all, Easter fun is all about sweet treats, good deeds, and memorable traditions.
Gather 40 plastic Easter eggs (one for each day of Lent). They're easy to find at most grocery stores during the Easter season.
Number the eggs with markers from 1 to 40. Then, place an inspirational message or a suggestion for a good deed in each egg. You can also write down names and ideas for prayer intentions.
While the number 40 might seem a little daunting, you'll be surprised how easy it is if you involve the whole family in ideas about what to include in the countdown!
Place the eggs in a large Easter basket. This basket makes a nice kitchen table Easter centerpiece, too!
Each day, a family member opens the egg for that day at breakfast or dinner and the whole family listens to the message, the prayer suggestion, or the activity for that day.
Even if you don't participate in Lent, your family can still enjoy this Easter countdown. After all, it's always a good idea to inspire each other with suggestions for good deeds, family fun, and prayers or intentions!

5. Send Easter Blessings With Radiant Angel Greeting Cards
Most of us send Christmas cards, so why not celebrate Easter this way? You could make your own or use our Radiant Angel Greeting Cards.
Message Ideas For Easter Cards
Send a note of encouragement as your faithful friends and family look forward to the blessings of Easter:
Turn your worst defeat into a grand victory. The miracle of Easter proves this is possible.
Good news! He is Risen!
Or a cute Easter message for everyone:
See? I told you Spring would arrive! Happy Easter!
Sweet treats, egg hunts, bunny rabbits, and smiles? It must be Easter! Chocolate bunnies are proof there is still good in the world. Happy Easter!
Whatever message you choose to send, or traditions you enjoy, we wish you and yours the happiest Easter ever. If you're hosting the celebration this year, take a look at our beautiful selection of inspirational home décor and kitchenware here.
Tell us about your favorite Easter traditions and gift ideas in the comments below.