Sure, when we think "holiday tree" our minds jump to Christmas, but with Halloween being the second most popular holiday in the United States, the growing "Halloween tree" trend might be just what you need to spice up your spooky décor.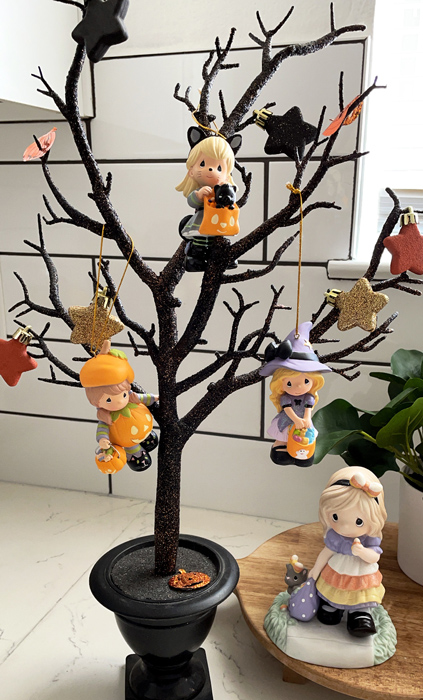 You may have seen some pretty cool Halloween trees popping up in store window displays, but it isn't difficult to make your very own. You can use a traditional evergreen that is either green or white, or go all-out and spray paint one black, orange, or purple. You could also use a bare-branched style tree for some stellar shadows on an eerie October eve. A tabletop sized bottle brush tree is perfect for smaller spaces like an entryway table, dorm room, or office.
The fun is in decorating your Halloween tree however you please. There are no rules! Like lights? String your Halloween tree in orange and purple lights or flashing white. You can use Halloween accents like plastic spiders and mini skeletons. Try making ghosts out of tissues or placing eerie black and white photos within the boughs. Of course, your favorite Precious Moments Halloween ornaments look perfect, too!
For fun finishing touches, drape your Halloween tree with faux spider webbing or wrap in Halloween themed ribbon (or both!) Of course, no Halloween tree would be complete without a topper. Might we suggest a light weight plastic skull or jack-o-lantern, a witch's hat, or a black cat cut-out.
If a spooky Halloween tree isn't your cup of tea, a harvest theme makes a beautiful tree as well. Use ears of flint corn, gourds, and leafy garland to create a tree that looks great all autumn long.
Pinterest has some fantastic ideas and check out @All.Things.Halloween for some more Halloween fun.
We wish you all a safe, fun, and boo-tiful Halloween!