Christmas Traditions Around The World
Here in the United States we enjoy many great Christmas traditions, but we wanted to explore some other wonderful ideas from places around the world. First of all, it's very interesting to learn about these other cultures and their holiday traditions. For example, Christmas in Ethiopia is celebrated with fasting and prayer in January, not December. In addition, we've highlighted some fun ways you can add a touch of global culture to your Christmas traditions this year. Now, let's relax and enjoy the holiday season in England, Australia, Ethiopia, and Poland.
By the way, we'd love to hear about the special ways you and your loved ones celebrate the holidays in the comments below.
Christmas Traditions In England
The holiday season in England is typically cold, wet, and foggy. Like many families in America, the English enjoy warm fires and cozy hearths. On Christmas Eve, families in England wrap presents, bake cookies, hang stockings, and enjoy sweet treats, just like we do here. After their homes are ready for the holiday, children gather 'round to hear older family members read the classic Dickens tale, "A Christmas Story". This is a fun tradition to adopt for your own family.
Father Christmas
Instead of mailing Santa Claus a letter or going to visit him, children in England write a letter to Father Christmas. After they write their letter, they throw it into the fire, so their wishes can go up the chimney! Father Christmas carries a sack of toys and arrives on the rooftops in a sleigh pulled by magical reindeer, just like Santa Claus.
While the children are sleeping, Father Christmas lands on the rooftop and comes down the chimney with small toys and treats for stockings and wished-for presents under the tree! This is very exciting because families don't usually decorate Christmas trees until Christmas Eve. Families leave holiday decorations up until January 5, considered the 12th day of Christmas.

Christmas Crackers
Try it at home: Christmas "Cracker"

After presents are open, families prepare for a midday feast. Children and adults enjoy finding "crackers" next to their plates. These are not crackers that you eat, but small tubes covered with festive paper. When the end tabs are pulled, they make a popping sound like a firecracker. Small trinkets, candy, and other special treats fall out for all to enjoy. Here is a blog post about how to make your own Christmas crackers at home!
Christmas Dinner And The Queen's Holiday Address
Families enjoy a late afternoon dinner of roast goose with currants, turkey with chestnut stuffing, or roast beef with Yorkshire pudding.
Did you know? Yorkshire pudding is not like American pudding. It's more like a biscuit, a popover made of baked, unsweetened eggs. Here's a recipe for your family to enjoy.
After dinner, cognac is poured on plum pudding and lit on fire for a dramatic dessert. Often, cooks bake a silver charm into the pudding. The Christmas traditions in England dictate that you'll have good luck the following year if you get the charm in your share of the plum pudding!
Did you know? Drinking wassail or hot spiced rum is thought to end all quarrels between family and friends.
After the feast, the family gathers together to watch the Queen's annual holiday address. What fun that must be!
England Post Christmas Holiday: Boxing Day
In England, the celebration continues on the day after Christmas, "Boxing Day". This day has nothing to do with the sport of boxing. Long ago, people filled alms boxes on this day. In modern times, people give small gifts to news vendors, postal workers, and other service people. Small plays called pantomimes are also common entertainment on Boxing Day.
Christmas Traditions In Australia
In "the land down under", the seasons are opposite of the northern hemisphere. Schoolchildren enjoy Christmas during their Summer break.
In late November, Australians begin the holiday season. Beautiful Christmas bush and Christmas bellflower bloom everywhere. Families decorate their homes with ferns, evergreens, and palm leaves. Families enjoy school and church Nativity plays, and Carols by Candlelight.

Carols by Candlelight
One of the most popular traditions in Australia is called "Carols by Candlelight". In 1937, a radio announcer named Norman Banks walked past a window and saw an elderly woman alone sitting by candlelight. He could hear her singing "Away In A Manger" along with the radio.
Norman felt a tug at his heart as he considered how many others might be spending Christmas alone. Then, he decided to create a new tradition. He invited a large group of people to sing Christmas carols by candlelight. 10,000 people showed up for the first Carols by Candlelight in 1938.
This year, Australia celebrates 81 years of this wonderful tradition. Portions of the proceeds from this star-studded event are donated to charities. Click here to learn more about this wonderful holiday tradition.
Many Aussies with British heritage enjoy a traditional British midday feast. Boxing Day is observed in Australia the day after Christmas as well.
Try it at home: Visitors may see a large candle in many windows on Christmas Eve. This candle is set out to welcome Mary, Joseph, and the baby Jesus. The youngest child in the family lights the candle. After the child lights the candle, the family prepares for and attends church services.
On January 5, considered the 12th day of Christmas, holiday decorations are taken down.
Christmas Traditions In Ethiopia
As one of the oldest nations in Africa, Ethiopia follows a calendar similar to the ancient Julian calendar. According to this calendar, Christmas day falls on January 7. In Ethiopia, the holiday is called "Ganna".
Fasting - An Orthodox Christian Tradition
As part of their orthodox Christian traditions, some Ethiopians take part in a vegan fast before Christmas. They do not eat meat, dairy, eggs, or alcohol during this time. In addition, Ethiopians fast from all food the day before Ganna.
Try It At Home: What could you give up for a few days or even longer before Christmas? Consider the holiday season a time for spiritual reflection. Instead of overdoing it, give up salty snacks or sweet treats - can you imagine? You can also give up complaining, phone screen time when you're with family and friends, or another common habit. Each time you resist the urge to indulge, say a simple mantra or a short prayer of gratitude. In this way, "fasting" from something we normally don't think about during the holidays helps us become present to the true wonders of the season.

Christmas Day In Ethiopia
Ethiopians do not traditionally exchange Christmas gifts. Occasionally mass is held at 4 in the morning. Feel free to tell your children this when they complain about getting up early for mass or school!
Christmas Traditions In Poland
Poles observe Advent as the beginning of the Christmas celebration season. During this time, they try to remember the real reason for Christmas.
Advent and The Roraty In Poland
People in Poland go to church more frequently during Advent. In addition, they honor the tradition of a Roraty mass, a special service which begins before sunrise. This mass symbolizes readiness and vigilance in anticipation of Christ's coming.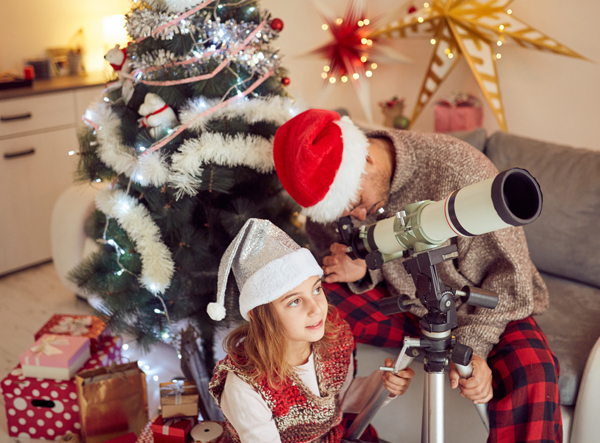 The First Star On Christmas Eve
Did you know? On Christmas Eve, people in Poland eagerly wait to see the first star in the sky. After they see the first star, they enjoy their traditional Christmas Eve meal. This meal is traditionally meat free, in honor of the animals that helped watch over baby Jesus in the manger.
For Catholics in Poland, the 12 dishes of the Christmas Eve meal symbolize the 12 disciples of Jesus. Each dish is meant to give you good luck for the next twelve months.
Try it at home: You can adopt the Polish tradition of straw under the tablecloth to represent the manger in which baby Jesus was born. This practice encourages conversation about the real reason for Christmas.
Thank you so much for reading our post about Christmas traditions around the world.
We hope you enjoy a festive holiday season and a happy new year filled with grace, love, and countless merry moments.