Setting The Table For Easter Fun
Depending on where you live, winter can feel a little too long. But we have good news! Spring is finally on the way! Believe it or not, Easter will be here soon. So let's get ready early and take the stress out of holiday planning. Here's 4 fabulous, easy ideas to set the table for Easter fun.
"It's not what's on the table that counts. It's who's in the chairs." - Anonymous
Easy Easter Table Setting Ideas
Let's start with some easy ways to make your loved ones feel truly welcomed.
This first Easter table setting idea is so simple, yet so thoughtful. Just place a single tulip in a small flower vase at each place setting. Of course, you can choose daffodils or another favorite spring flower. Include the kids in your planning, so they feel special too!
For the vases, you can use painted tin cans, small Mason jars, or clean juice bottles with the labels removed.
These pretty little accents make nice gifts for guests to take home too.
See? Easy, elegant, and beautiful! Just perfect for your pretty Easter table!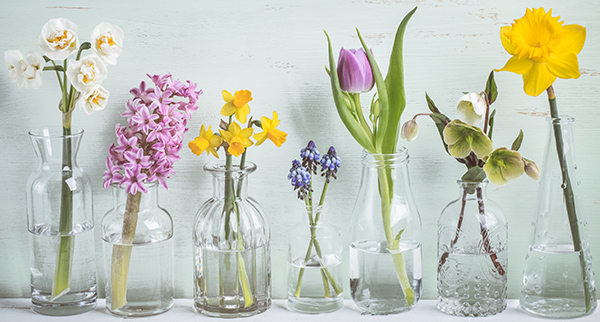 Edible Easter Place Cards
Now, let's talk about Easter place cards. We know, place cards sound a little formal, but it's just so easy to make friends and family feel extra special with this fun Easter table setting idea. Grab some chocolate bunnies from the kids' candy selection (you know you love them, so get a few extra) and some white ribbon. Then, use a pastel-colored marker to write the guest's initials on the ribbon.
If you want to get fancy, you can use alphabet letter charms (most craft stores sell these and they're usually not very expensive).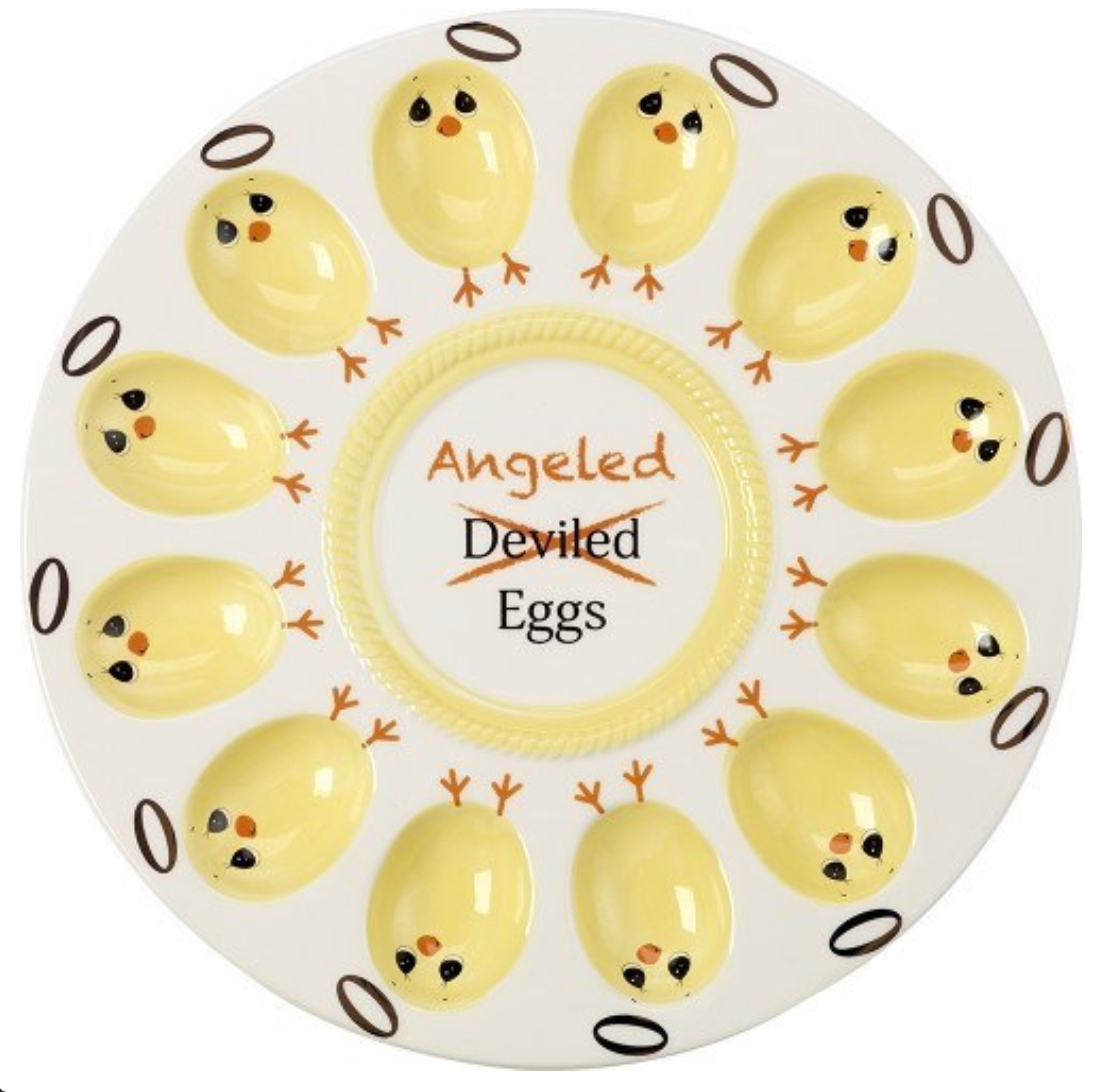 Tie the pretty ribbon around the chocolate bunny with a cute bow and there you go! A fun Easter treat to take home and eat.
Serious Easter Fun! "Angeled Egg" Platter
Now, let's have some serious Easter fun with our cute "Angeled Egg" Platter. Don't you just love this clever play on words?
Serve your guests an Easter smile with this simple, yet delicious 'angeled' egg recipe:
'Angeled Egg' Recipe

6 hard-boiled eggs (chilled in ice water for 5 minutes or in refrigerator for an hour) 1/4 cup plain Greek yogurt 2 teaspoons Dijon mustard 1/4 teaspoon pepper 1/8 teaspoon edible glitter sea salt or paprika to garnish

Remove outer shell and cut each egg in half lengthwise.
Scoop out the yolks and place them in a bowl.
Place your egg whites on the platter.
Mash the yolks with the yogurt. Add mustard, pepper, and salt. Mix until blended.
Scoop mixture into egg white halves with a teaspoon (or use a frosting piping bag for a more elegant look).
Now, let's decorate your delicious treats! Sprinkle edible glitter or sea salt for an angelic effect or paprika for a more classic style. Chill until served.

Fun Easter Accents
Have you seen our adorable matching 'Angeled Egg' Salt & Pepper Shakers?
These cute accents coordinate perfectly with our Angeled Egg platter, making it even easier to set the table for Easter fun. Go ahead and add them to your Easter table display. After all, laughter is good for the soul!
Easy And Beautiful! A Fun Easter Centerpiece Idea
Yes, it's true. An Easter centerpiece doesn't have to be complicated! Here's a simple, fun, and easy idea for an Easter centerpiece you'll love.
Since you've already colored eggs with the kids, why not use their extra Easter eggs as a cute centerpiece addition? Gather some natural straw or buy pre-made bird's nests (available online and at most craft and home goods stores).
Use pastel cloth napkins or colorful tissue paper to decorate the nests and place the colored eggs inside. Let the kids help. You simply can't go wrong with this idea.
Simple, elegant, and totally awesome! In addition, these nests are sweet take home gifts for guests.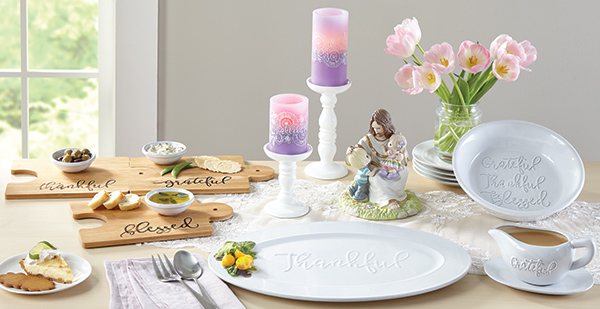 We hope you enjoyed these fun Easter table setting ideas.
More importantly, we're so glad to 'see' you here. Thanks for hopping in to read this post about setting the table for Easter fun.
Oh, and "Hoppy" Easter to you and yours!