There's something very special about Precious Moments figurines and ornaments. That feeling you get when you see the soulful eyes and other remarkable details of our gift collections does not happen by chance. While much of the world has turned to mass production and automated techniques, we still make every one of our collectible figurines and ornaments by hand.
We know that you put a great deal of time and thought into selecting a gift for your loved ones. That's why we honor our longstanding tradition of making unique gifts by hand each time we personalize a Precious Moments figurine or ornament. We don't personalize your thoughtful gift with a machine. Instead, we add your personal message to each figurine or ornament by hand, with heart.
The Process Of Creating a Personalized Precious Moments Figurine
Our personalization specialist carefully re-creates your message in handcrafted font. Like all of our signature artistic details, this heartwarming design element takes time and practice to master.
We're proud to show you the loving hands that add a personal touch to Precious Moments products. Usually, you can add between 10 and 20 characters to a figurine and up to 10 characters on a Precious Moments ornament, which is a typically a tag that hangs right above the ornament itself.
Our personalization specialist uses a special gold paint pen to add a date, name, or thoughtful message on your gifts. View all our figurines that can be personalized.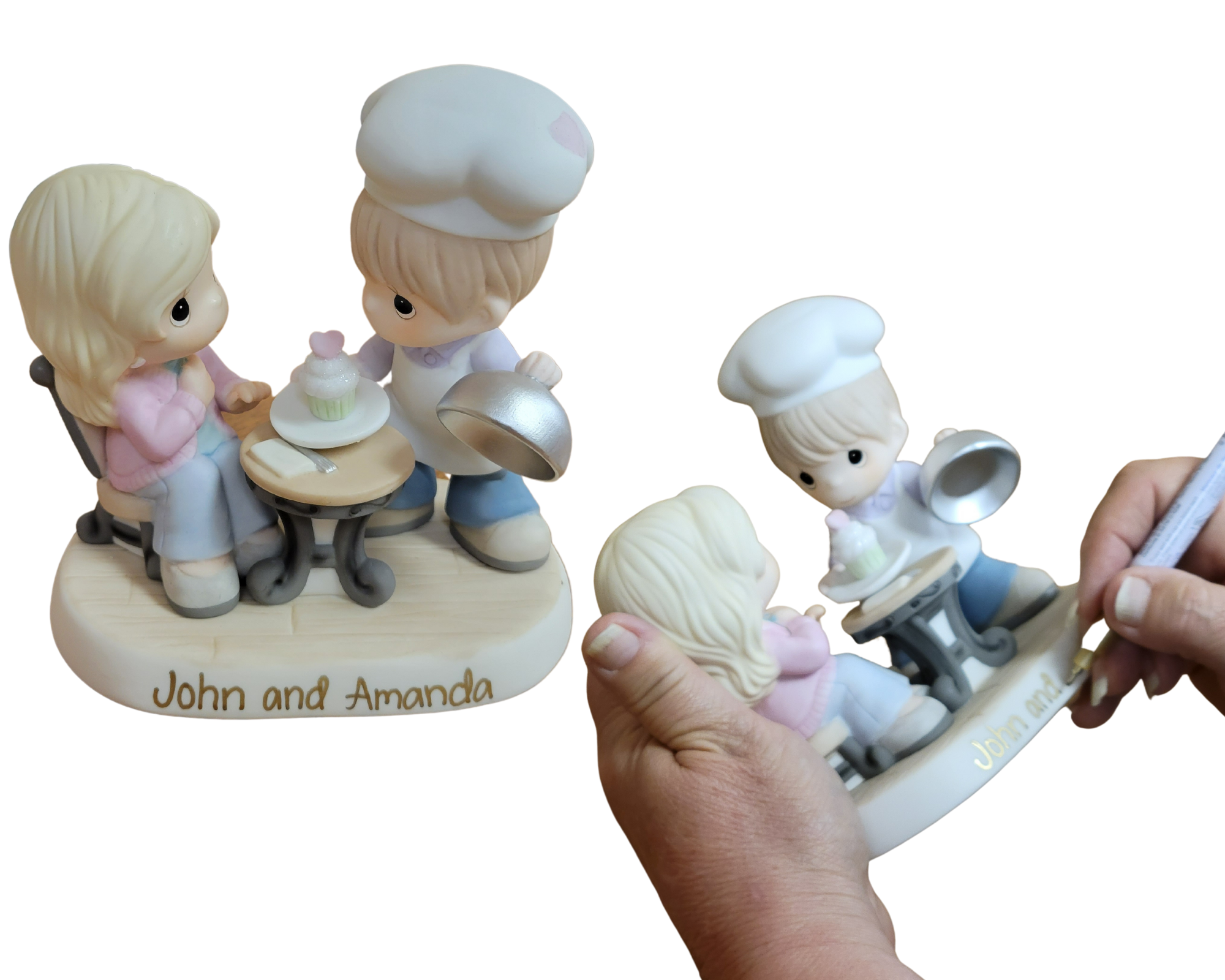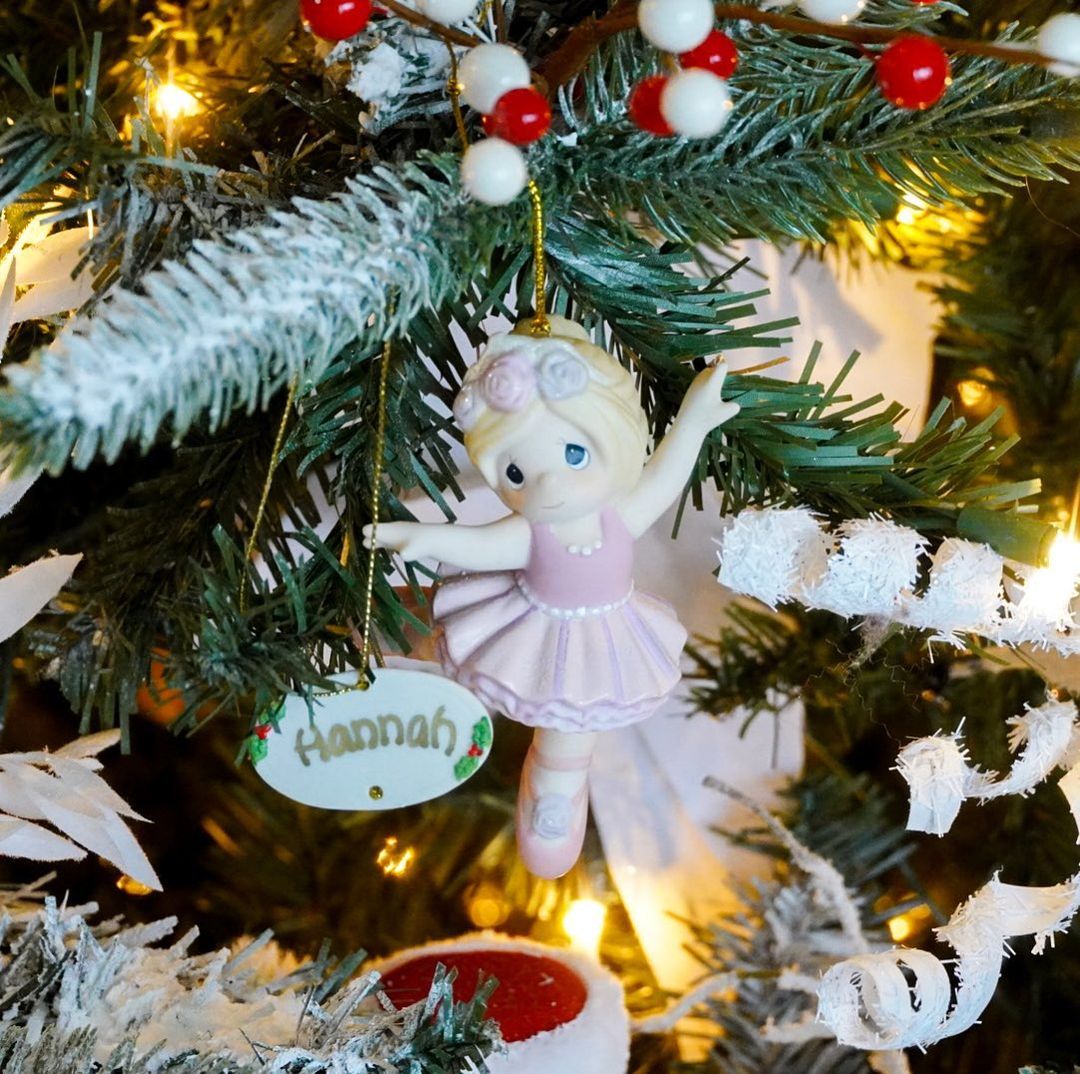 Frequently Asked Questions About Personalized Gifts From Precious Moments.
Here are some common questions and answers about choosing to personalize your gift from Precious Moments.
Can I personalize anything I order from PreciousMoments.com?
No. Items that can be personalized have a special box in the item description. This is where you enter your date, name, or message prior to purchase.
Is there a fee charged to personalize a gift?
Yes. A small fee is added at the time of order. This fee is $6.00 and the total price is listed with the item on our website and in our catalogs.
If an item is eligible to be personalized, does it have to be personalized?
No. Personalization is not required.
How many characters can I include in my personal message?
Character limits vary per item and are based upon the available space. In general, you can add ten to twenty characters to personalize a Precious Moments Figurine. Usually, you can add up to ten characters to personalize an ornament or a doll.
Do spaces and punctuation count as characters?
Yes. We make it easy to keep track. Once you've reached the maximum number of characters, your keystrokes won't add any more characters to the screen.
Can I view or edit the message on my personalized gift?
Yes. You can view your message in your shopping cart. If you want to change your message, click on the product title to get back to the original product description page where you can enter a new message. Then add the item to your cart. Finally, delete the item with the incorrect message from your cart before proceeding to checkout.
Does Precious Moments personalize collectible dolls by hand?
No. We carefully machine-embroider personal messages on Precious Moments dolls with coordinating thread.
Do personalized gifts require additional processing time?
Yes. Please allow up to 4-6 additional business days plus shipping time. We take this time to ensure the superior quality of our personalized gifts.
Can I personalize Precious Moments Limited Editions?
Yes. You can personalize Limited Edition figurines that have this option listed in the product description.
Can I add different personal messages to the same gift for more than one person?
Yes! We have lots of customers who like to buy a special figurine or doll to share with their two best friends, or personalize the same ornament to send to different family members. Simply click the personalization box and enter your first message. Then, add the item to your cart. From the shopping cart, click on the product title to return to the item description page. Here, you can enter a new message and the second item to your cart. Continue to follow this process for each additional item.
Is it appropriate to give a personalized gift for any occasion?
Yes! After all, who doesn't love a personalized gift? Many people personalize gifts for graduations, anniversaries, weddings, and holidays. In addition, a personalized gift from Precious Moments is a wonderful way to welcome a new baby home.
We hope you enjoyed this post about personalized gifts from Precious Moments!
Thanks so much for sharing the gift of love.