The Precious Moments Timmy's Tower did not start from an easy place. Late June in southwest Missouri is hot. And humid. It's the weather where air-conditioning is prized above all else, especially this past June when temps reached 97° for days on end with a real feel of 107°. Forget the haircare, ditch the dark colors and long sleeves. Think cool thoughts and stay indoors.
Except that's not what happened in late June at the Precious Moments Chapel and Grounds. Oh sure, the crowds there were seen enjoying the indoors as they ate in the restaurant or shopped at the world's largest Precious Moments Gift Shoppe. Yet anywhere you went, people were seen strolling the grounds and walking to one place and another, though perhaps with a sweat-beaded brow or a hand fan moving furiously back and forth.
See, the weather doesn't deter tourists and enthusiasts from their trip here. This summer season it was especially true because there was a new attraction they'd waited years to visit. It was the fulfillment of one man's dream, and had become theirs too, though it was realized in a way no one dreamed it would come to fruition.
Beloved by many for his kindness, talents and deep abiding faith - all gifts from God as he continually points out - artist Sam Butcher had always dreamed of having a bell tower when he built the Precious Moments Chapel 27 years ago on the grounds he purchased in Carthage. It was natural, of course, to have a bell tower complement the place that brought joy and comfort to many, none more so than Mr. Butcher himself. At the time, the tower was one of those "one day" dreams – the type you plan to happen when the timing is right. After all, life comes in stages.
The guests who return to Carthage year after year knew this, and so they waited, always enchanted by the Chapel itself with its ever changing Precious Moments murals. No one knew when Mr. Butcher would decide a painting needed an adjustment or an addition. For instance, at a particular time earlier this year visitors who entered the Chapel one day would have found a painting with more angels then they'd seen the day before. Even Chapel tour guides are surprised by what they'll find at any given moment when Mr. Butcher is around.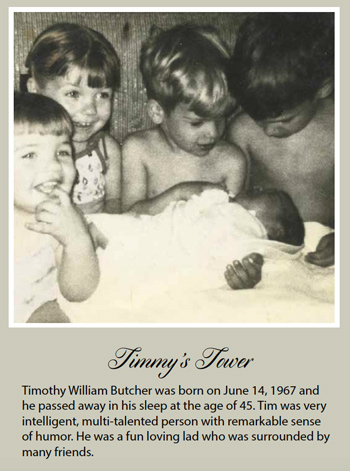 And so it was this past June people came to Precious Moments Chapel and Grounds in part anticipating the opening of the long-awaited bell tower. Sitting next to the Chapel, the small intentionally simple structure was created, not only to fulfill Mr. Butcher's long-ago wish, but to also be a celebratory structure honoring the life of a man whose time on this Earth was too short, Mr. Butcher's third son, Timothy.
It will be four years ago this October that Timothy passed away unexpectedly at the age of 45. His death was, of course, hard on his father. Parents aren't supposed to outlive their children and Mr. Butcher had already suffered the loss of another son, Phillip, in 1991. Mr. Butcher was eventually able to channel that first grievous loss by creating Phillip's Room, a place in the Chapel where visitors learn about Phillip's life and share their own personal stories, writing in the guest books located nearby. In this room, people know death of loved ones is the equalizer of all, in which the joy of life and the pain of loss escapes no one.
"Phillip's Room has probably been one of the most effective rooms as far as really touching people in a very special way," Sam Butcher has said. "It was the Lord who told me this would be a way for Phillip to reach many people."
When Timothy passed, Mr. Butcher felt the new pain sharply, but as before he had a divine revelation – he would also honor the life of this son and do so with his long-awaited bell tower. Breaking ground in 2014, the bell tower slowly grew to completion.
"After Timmy died, I completely lost it and was in the hospital for three weeks in another country," Mr. Butcher reveals. "From there I was moved to the Mayo Clinic and it took almost a year for me to accept and understand that Timmy in his death could reach many people with encouragement and love; much in the same way he did during his life on Earth, but on a much larger scale."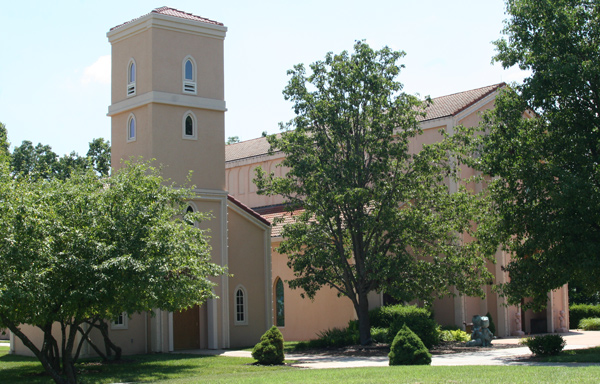 You see, this isn't just any bell tower, it's Timmy's Tower.
"I wanted that feeling of real simplicity," Mr. Butcher lovingly explains. "In Timmy's Tower I've made a beautiful room dedicated to him that will resonate with many people and hopefully touch their lives at the most trying and unsettling times."
That journey to the Tower has now begun for visitors and Mr. Butcher hopes the room in Timmy's Tower fills the same role as Phillip's Room has done for millions of visitors.
When the Tower was under construction, Mr. Butcher reflected, "Because of Timmy's personality and the things I know I'm going to be able to do in that room, I really feel it is going to be a special enhancement to the Chapel."
It has been. Under bright hot skies, every half hour on its opening day, people were greeted by the long-awaited sound of bells from the Tower. As they entered the structure, they were immediately greeted by artwork and smiling family photos, complementing the focal point of an Angel Timmy doll seated on an ornate chair resting on a carpeted platform. The presence of this life-size doll is unexpected and emotional.
As people look beyond, they see a gold-framed painting by Mr. Butcher depicting clouds, a lone bluebird flying above, and rays of blue that one person was overheard saying looked to be the gates of heaven. This painting projects a welcoming heavenly calm, the effects of which can be seen on the faces and in the demeanor of visitors.
Attention soon turns to meaningful mementos and art on other walls. There's the childhood artwork by Timmy. He was a young gifted artist, proven by the cartoon-style story he drew and wrote at age 5 depicting Joseph and his coat of many colors. His creative talent and faith was evident even at that tender age.
Touched by the words of 1 Corinthians 2:9, Mr. Butcher has placed next to Timmy's artwork a large gold frame. Within it holds the passage painted by Mr. Butcher among butterflies and flowers in a forest.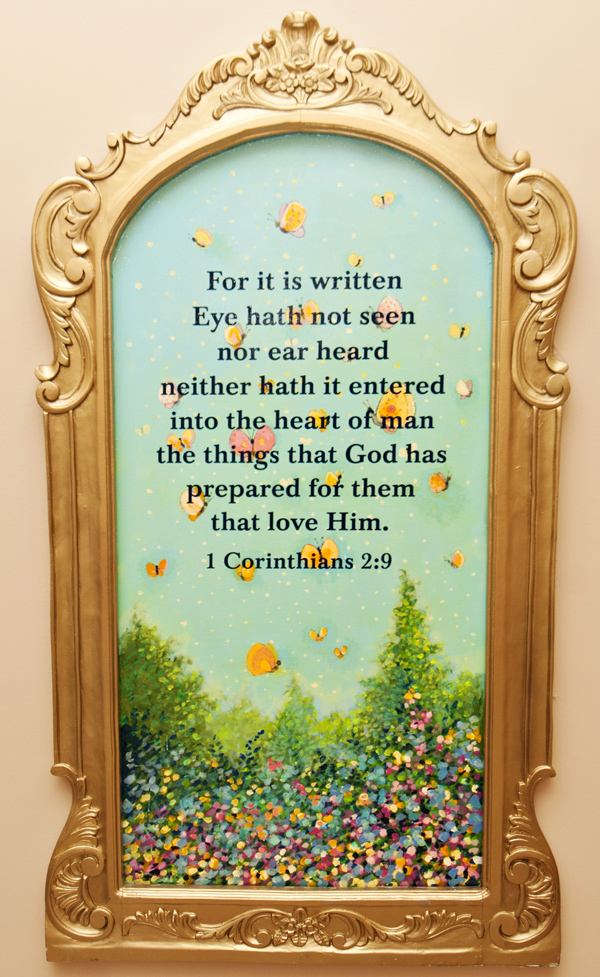 Completing the wall – for the moment – is another, smaller, gold frame; this one containing a poem written by Timmy's dad.
The sad loss of a loved one Can be so hard at times I understand because I lost Two precious sons of mine
I lost my way and wandered In a valley of despair Because my heavy burden Was too much for me to bear
But then I heard a still small voice So warm and tender It was the voice of Him, who said I'm here, just trust in me.
Then all at once, I felt a touch It was the hand of God So gentle, warm and soothing Like a balm in Gilead
We need not be afraid my friend When sorrow comes because The Lord will bless us and keep us By the power of His love.
- Samuel J Butcher, 10-12-15
From the comments overheard during the Summer months, guests at the bell tower feel the tranquility inside and the love and laughter of Timmy's creative soul. Visitors silently reflect on the life and legacy of the son and man who left this Earth at too young an age, and in remembrance of their own loved ones they've seen accepted into the kingdom of Heaven.
When Timothy Butcher was called home by the Lord, his obituary stated, "He was a great son, brother and a friend to many. He was a talented musician, artist and scholar. He had a strong love for science and an amazing sense of humor." Adding to that Mr. Butcher has said, "Timmy was very intelligent and very, very creative. After he died, I guess the first thought that came to me was that his life could still go on. That's why I built the Tower."
Mr. Butcher had said that of all his children, Timmy was the one he recalls never having to punish—although he concedes that Timmy was quite mischievous and probably just misbehaved when Daddy wasn't around to see it!
On the Tower's opening day, Mr. Butcher –ever the proud father—explained to a reporter he planned to put more of Timothy's artwork on the walls. As to whether additional Sam Butcher paintings would adorn the space, Mr. Butcher expressed work on Timmy's Tower will be ongoing. "My work is never done… I'm always inspired to do something else."
We wouldn't want it any other way.
According to its creator, the innocence of children is what the Precious Moments art represents. Mr. Butcher believes these children are little messengers of the word of God and it's these messengers who've been able to touch so many people worldwide. It's no wonder, then, why so many are being drawn to Timmy's Tower. There, Timmy will forever be a child of God whose message of love and joy is endless.
As the Summer months wane to make room for Fall's crisp weather, the visitors to Timmy's Tower continue. Open year-round, the fans and faithful will continue to find their way to this beautiful oasis of God's goodness. Just as the Summer's sweltering sun met its match in those determined to visit despite the heat's oppression, Winter's cold will find it will not be a deterrent to the people whose souls seek nourishment from the devotion exhibited in Timmy's Tower. It's a celebration of a life and of a father's love. Two things we can never have too much of in our lives.
May God's love always wash over you and fill you with peace; may you sense His presence with every step you take.
Learn More About The History Of Precious Moments
You've just read Timmy's Tower. If you'd like to read more about our history, please click on a title below:
Part 1, Sam Butcher's Faithful Path To A Dream
Part 2, The Founding Of Jonathan And David
Part 3, From Paper To Porcelain
Part 4: The Original 21 Figurines
Thank you so much for reading our posts, and may God bless you in all His miraculous ways.
<