The History Of Precious Moments, Part 3: From Paper To Porcelain
The Precious Moments story is so much more than a story about a successful business. As you read through this post, you'll see that the story of Precious Moments is ultimately a story about sharing the gift of love with the world by trusting in God's divine plans for our lives.
Precious Moments In A Precious Year
In 1978, NASA selected its first female astronauts, a new show called "Dallas" premiered on CBS, and the horse Affirmed won the Triple Crown of thoroughbred racing. Though the world didn't know it then, 1978 was also the year that an unplanned meeting between the founders of the greeting card company Jonathan & David, Samuel J. Butcher and Bill Biel, first met Eugene Freedman, founder of a giftware company called Enesco Imports. Believe it or not, this unplanned meeting was the first step in the incredibly successful launch of Precious Moments figurines.
That initial meeting altered not only the lives of all three men, but also the lives of countless people around the world. Keep reading to learn more about the surprising path that led to the worldwide phenomenon of Precious Moments figurines.
Gene Freedman's Early Career In Giftware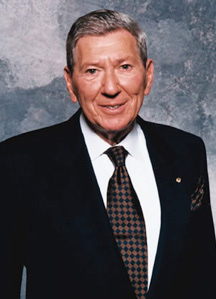 In the late 1940s, Gene Freedman returned from his Navy service during WWII with no firm plans for his future and decided to live in the city of Milwaukee, Wisconsin, where he had grown up. He started his career in giftware shortly after that by traveling the country selling miniatures for a Milwaukee-based company. By the early 1950s, this insightful entrepreneur had started his own company, producing injection-molded plastics and decorative figurines.
In 1958, Gene Freedman made another big change when he joined forces with six N. Shure employees to buy the import division of that company, one of the oldest importing businesses in the United States. Gene and his co-founders called their new enterprise Enesco Imports.
The name, Enesco, was a clever way to incorporate the initials of the well-respected N. Shure Company- "N. S. Co". This excellent name choice was just one of Eugene Freedman's many smart moves during his inspirational career in giftware.
Sam Butcher's Artwork Inspires Gene Freedman
Among his duties at Enesco Imports, Gene Freedman designed and purchased giftware from Europe and Asia. One day in early 1978, he made a stopover in Los Angeles while headed to Asia and decided that he would attend the L.A. Spring Gift Show.
It was truly a divine moment when the successful businessman first saw the posters and greeting cards made by Sam Butcher and Bill Biel for the Jonathan & David greeting card line at the gift show.
According to Gene, "A friend brought me some cards and posters with illustrations of children with soulful teardrop eyes. I knew immediately that these drawings were something special."
Gene's Vision: From Paper To Porcelain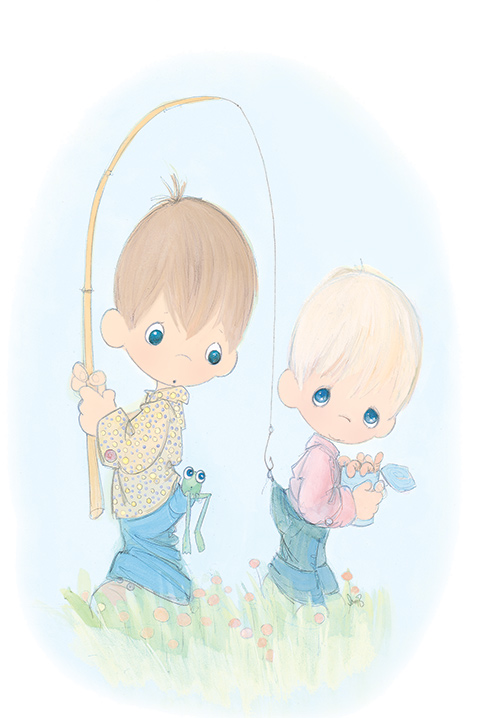 The first poster he saw featured the drawing, "I Will Make You Fishers Of Men". This soulful art work features two little boys carrying a fishing pole and a can of worms. Gene Freedman fell in the love at first sight. As a talented entrepreneur, he immediately envisioned these adorable children in 3D bisque porcelain figurines.
In addition, Gene knew a master sculptor who had the talent and the vision necessary to convey the warmth and reverence of Sam Butcher's artwork. Yasuhei Fujioka had been working with Gene Freedman for more than twenty years, and Gene had no doubts about his first choice in that incredible moment.
The Precious Moments Story: An Invitation To Consider
Shortly after this emotional experience, Gene Freedman called Sam Butcher and Bill Biel to talk with them about his ideas for about taking the original artwork from paper to porcelain.
"They were very reluctant. I could sense the Precious Moments artwork was everything they had in the world; it was like their own children." - Gene Freedman, describing his first phone call to Sam Butcher and Bill Biel

This reluctance was real. The founders of Jonathan & David did not believe that anyone else could truly share their deep commitment to Sam Butcher's artwork and his heartfelt inspirational messages. Additionally, they wanted to turn this artwork into porcelain figurines themselves.
"At first, we weren't all that interested in his proposal," remembers Sam. "But we didn't have the money or expertise to take on such a project ourselves."
Gene Freedman persisted even though Sam Butcher and Bill Biel were not easy to persuade. Although Gene wasn't the first person to present a proposal about making giftware from Sam Butcher's artwork, his heartfelt proposal was the first to garner serious consideration by the founders of Jonathan & David.
"Gene seemed very serious and appreciative of the artwork…he was the one who really seemed to care." - Sam Butcher, the artist and founder of Precious Moments

After careful consideration, Sam and Bill decided to say yes to Gene's request for a conversation. Gene Freedman agreed, but he did not set a date for a meeting. He had a unique idea that was going to take a little time.
The Master Sculptor
With his extensive experience in the giftware industry and his intuitive sense of the deeply personal feelings that inspired Sam Butcher's artwork, Gene knew that words alone would not be enough to convince these faithful men. Instead of trying to convince them that he would treat their artwork with the utmost care, he decided to prove that Enesco was the right choice.
While he was in Japan, Gene asked master sculptor Yasuhei Fujioka to create an example of his vision for the Precious Moments artwork with one of Sam Butcher's most popular drawings, "Love One Another".
"I remember the enthusiasm I felt in translating those lovely children into figurines." - Master Sculptor Yasuhei Fujioka

When later asked where he received his inspiration for the Precious Moments figurines he created, Fujioka enthusiastically responded, "From Sam!" Gene Freedman was pleased and excited when he saw the figurine created by Yasuhei Fujioka. With a hopeful attitude, Gene called Sam Butcher and Bill Biel to request a meeting.
Just a short time after their serendipitous meeting at the LA gift show, Gene Freedman, Sam Butcher and Bill Biel met again at Enesco headquarters just outside of Chicago. Here, Gene Freedman handed a wrapped gift to the founding artist of Precious Moments, Sam Butcher. Little did they know that this precious moment would forever change the course of their lives. After all, this was the first time that Sam Butcher saw his artwork brought to life in a bisque porcelain figurine.
Sam Butcher Sees The First Figurine
"They were sitting in front of my desk and when I showed it to them, it was a tearful moment; so beautiful to behold. Sam dropped down to his knees and cradled the figurine, whispering, 'Look, Bill, look.'" - Gene Freedman, describing the moment that Sam Butcher first saw the initial Love One Another figurine.

The future business partners were in awe as they passed the porcelain figurine back and forth between them. Incredibly, the master sculptor had not only transformed the artwork into a three-dimensional expression; he had truly captured the heartfelt emotions and faithful messages shared by Sam Butcher in his original illustration.
All three men were moved to tears by the end of this meeting. They knew that God had worked another miracle for all of them.
In that first meeting, Gene, Bill, and Sam talked about what really mattered, not just business. They shared their mutual respect for the values of love, faith, and family that have always been present in Sam Butcher's artwork.
The three men had forged a very special bond of deeply held values and faithful beliefs. Gene Freedman's passionate commitment convinced Sam Butcher and Bill Biel that a line of 3D porcelain figurines based on their artwork was a real possibility.
Still, the founders of Jonathan & David did not commit to anything that day. Before the meeting was over, they asked Gene if they could keep the figurine with them. After Gene said yes, Sam and Bill promised to let Gene know their final decision at a later time.
Sam Butcher And Bill Biel Choose Enesco
After a few days of prayerful reflection and careful consideration, Sam and Bill said a resounding, "yes".
But, there was one condition; While Sam and Bill loved the figurine, they wanted to improve the final product by working hands-on with master sculptor Yasuhei Fujioka to improve the final product.
Gene Freedman knew what to say even though he wasn't sure about how he would honor this condition.
"Without hesitation, I said, 'Yes!' It was the very best news I could have heard," Gene Freedman's response to Sam Butcher and Bill Biel's request to work hands-on with master sculptor Yasuhei Fujioka in Japan.

This was an unusual decision. Gene Freedman did not like projects that required high expenses and complicated planning. However, he realized this close collaboration with the sculptor and the artists would yield the best results, and that was all that mattered to him. Gene Freedman was determined to make this inspired dream come true, no matter what.
Sam Butcher and the Master Sculptor
Not long after meeting the master sculptor at his studios in Nagoya, Japan, Sam Butcher started calling him "Fujioka-san".
"San" indicates deep respect and familiarity, similar in some ways to "Mr." in English. Sam Butcher knew from the start that this sculptor was remarkably sensitive to the depth of the original artwork from the moment they met.
"I don't feel we are dealing with business. I am dealing with an artist who can relate to me heart-to-heart. It's as if we would go off into our own little world. Only God could have created a relationship such as ours." - Sam Butcher describing his relationship with master sculptor Yasuhei Fujioka.

The sculptor and the Artist worked together for hours upon hours to perfect the first Precious Moments sculptures. Sam Butcher patiently drew the eyes of the Precious Moments children over and over in his relentless pursuit of perfection.
Although the master sculptor and the artist did not share a spoken language, their hearts connected seamlessly. For example, Fujioka-san created the back side of the figurine exactly as Sam had imagined, even though the drawings did not contain any details about the back side.
"You could just sense what was going on between them. There was a tremendous feeling of mutual respect for their different talents." -Gene Freedman, describing the relationship between Sam Butcher and master sculptor Yasuhei Fujioka.
Collectible Treasures - Precious Moments Figurines
While Sam Butcher and Fujioka-san created the first Precious Moments figurines, Gene was busy with business plans. In order to avoid the rising costs of production in Japan, he turned to a longtime friend who had a trading company in Taiwan. Eventually, Gene found a production factory in the home to many skilled ceramists, Miaoli, Taiwan. Fortunately, this factory could produce Precious Moments figurines for a reasonable price; in turn, retailers could buy and sell Precious Moments figurines as affordable giftware.

It's hard to believe, but Gene, Sam, and Bill sold the first Precious Moments figurines under the name of Jonathan & David, not Precious Moments!
The unexpected popularity of these first figurines only foreshadowed the astounding success of this line in the future. When Precious Moments figurines were embraced not only as giftware but as collectible treasures, the worldwide phenomenon of Precious Moments was officially born.
Gene Freedman's Passing
After several decades of Precious Moments successes, charitable work, and loyal friendships, Gene Freedman passed away in 2008.
In newspaper interviews, his son, Richard, said that Gene's "eye for design" and keen business instincts made him a natural fit in the gift and collectibles industry.
"My father understood human emotion and he knew what made a product successful. My dad was just so delighted that these [Precious Moments] figurines brought such joy to people."- Eugene Freedman's son

For 27 years, the relationship between Precious Moments and Enesco defined the collectibles industry. More importantly, the relationship between Precious Moments and Eugene Freedman lasted until his passing in 2008.

Precious Moments Ambassador Of Goodwill
After retiring from Enesco, Gene Freedman served as a Precious Moments Ambassador of Goodwill. He continued in this role even after the Precious Moments Company separated from Enesco in 2005.
After his death, Precious Moments honored Gene Freedman's contributions with a commemorative porcelain figurine entitled You Are Always In Our Hearts. This figurine features Gene signing a figurine at a Precious Moments signing event.
Precious Moments donated a portion of the proceeds from this special figurine to support The Boys and Girls Club of America, one of Gene's favorite charities. Although this figurine is no longer in production, Gene Freedman's positive influence remains forever in our hearts.
This faithful man worked tirelessly to make a long-lasting impact on Precious Moments and the collectibles industry. In addition, his generous spirit touches each and every person who interacts with a Precious Moments product and his charitable donations of time and money have improved life for thousands of people all over the world.


The Precious Moments Story: God's Divine Plan
God's divine plan brought four men together with the soulful art of Sam Butcher. In turn, they created an everlasting legacy of loving, caring, and sharing.
The Precious Moments family is grateful that God placed Sam Butcher's artwork in Gene Freedman's path. His abiding respect and love for the Precious Moments brand inspired Sam Butcher to greater and greater accomplishments.
Gene Freedman's Lasting Legacy
Gene never took for granted the trust placed in him as one of the guardians of the Precious Moments message. Over time, his dedicated stewardship brought Precious Moments figurines and artwork to millions of people all over the world. With every new product introduction, Gene Freedman's inspired efforts continue to touch hearts and minds across the globe.
Thank you for reading our post and thank you for sharing the gift of love.
Learn More About The History Of Precious Moments
You've just read Part 3 of The History Of Precious Moments. If you'd like to read more about our history, please click on a title below:
Part 1, Sam Butcher's Faithful Path To A Dream
Part 2, The Founding Of Jonathan And David
Part 4, The Original 21 Precious Moments Figurines
Thank you so much for reading our posts, and may God bless you in all His miraculous ways.