The History Of Precious Moments, Part 2: The Founding Of Jonathan And David
The Precious Moments story is really a story about the profound faith of the Precious Moments founder, Samuel J. Butcher. He trusts God completely, even when it seems like there is no earthly solution. In this video, you can see for yourself just how deeply Sam Butcher and his wife relied on God. When you understand the depth of this faith, it's easy to see God's hand in the history of Precious Moments. It all began with a company called Jonathan & David.
The orignal Jonathan & David painting by Sam Butcher measures 6 feet by 6 feet. As tall as a man, it depicts the Old Testament story of Prince Jonathan willingly relinquishing his crown and power to David. This impressively sized artwork hung in the Grand Rapids, Michigan headquarters of Jonathan & David, Inc. Though many know the story of Jonathan and David from the Bible, the significance of this story moves beyond the pages, to the business created by Sam Butcher and his business partner, Bill Biel. It was the beginning of Precious Moments.
Sam Butcher Meets Bill Biel - The Friendship That Made History
Sam Butcher and Bill Biel met at Child Evangelism Fellowship (CEF) in Grand Rapids, Michigan. This organization describes itself as "a Bible-centered organization composed of born-again believers whose purpose is to evangelize boys and girls with the Gospel of the Lord Jesus Christ and to establish (disciple) them in the Word of God and in a local church for Christian living." Mr. Butcher and Mr. Biel met at CEF as one was leaving and the other arriving.
Sam began work in the shipping department of CEF and he was quickly promoted to the art department. His workload and his hours grew, as did his family and responsibilities at home. Even though his hours were long, Sam needed to supplement his income by cleaning office buildings. Afterwards, he'd go home to finish more CEF work. Eventually the heavy workload and the pressure became too much for one person. But when Sam suggested an assistant, he was informed that the company was hiring a replacement who could handle the workload, Though shaken by this turn of events, something good came from it. On his final day at CEF, Sam Butcher met his replacement, Bill Biel.
"He truly had the kindest eyes I had ever seen. God brought us together and from the beginning, we were friends."- Sam Butcher, describing Bill Biel
God Leads The Way: The Unlikely Partnership of Sam Butcher and Bill Biel

In an unforeseen turn of events Sam found himself at CEF once again, and as he well knew, the workload was indeed too much for one person. Within only a few weeks on the job, Bill needed help. CEF, now realizing Sam's worth, reached out to Sam and the two men who originally met going opposite directions now found themselves in the same place. These friends turned into coworkers. This twist of fate would eventually change their lives.
"The work they had demanded of Sam was ridiculous," said Bill of Sam's previous time at CEF. "I have never known an artist who could produce the amount of artwork that Sam can. He is the most prolific artist I have ever known."
Their time together in Grand Rapids was not one of permanence, though. Eventually Sam left Michigan and returned to California, this time of his own accord. Due to his wife's ill health, he wanted to be nearer to family for help with the care of his children. He continued to teach the Bible as a Regional Director for CEF, and he loved his work. Unfortunately, though, the pay was not nearly enough to support his family. In addition, his work no longer included art.
After two years in California and the birth of their sixth child, Sam received an offer to return to his old job in the art department at CEF. The reason: Bill had chosen to leave CEF to take a new job with a different company, creating the opportunity for Sam's return to Michigan. With Katie's health improved and the opportunity to once again use his artistic skills professionally, Sam accepted the offer, returning to Grand Rapids in 1970.
Not long after Bill's departure from CEF, and Sam's return to it and Michigan for the third time, the men found themselves working together once again. It seems nothing could keep these two friends apart. Bill had not been happy in his new job and asked to return to CEF. This second round of working together continued to strengthen their friendship.
Jonathan & David: A New Business Is Born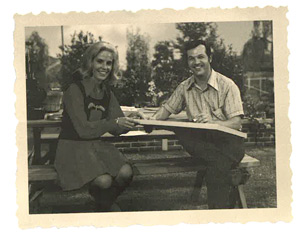 About a year after Sam's return to Grand Rapids, he became the storyteller for CEEG's national television program, The Treehouse Club.
On the show, he was known as "Quick Draw Sam" because he would tell a Bible story and then draw it. This illustrative work was a key component to something extraordinary that was destined to change the direction of the men's lives.
On one occasion, Sam and Bill were watching a film together when the idea came to them for visual aids in the Christian teaching field. This revelation planted the seed that made Sam and Bill decide to go out on their own as commercial artists. It was also the beginning of the Jonathan & David business partnership, which was the foundation for Precious Moments. The official company, Jonathan & David, Inc. was formed in 1974.
"Because of our close friendship, we named our company Jonathan & David, after the beautiful Biblical friends of David and Prince Jonathan," said Sam. "We fit perfectly together, not only as close friends, but as a successful working team. I was the illustrator and Bill, the designer."
Bill adds to the story, "Sam had a left hand and I had a right hand; our talents overlapped. Sam refused to do the bookkeeping so I had to do it," he said with a laugh.
By 1975, the partners were creating buttons and Bible flannel graph backgrounds (a storytelling medium using a board covered with flannel fabric usually resting on an easel) for Sunday schools, as well as doing freelance work for other companies; their clients mostly local. One of those companies, Mott Media, wanted the pair to attend the upcoming Christian Booksellers Convention being held in Anaheim, California so they could introduce the Jonathan & David duo to those in attendance. Though the artist and designer had initial reservations and didn't want to go, that changed when they were told they could have their own booth at the show.
The Precious Moments Story: It's All In A Name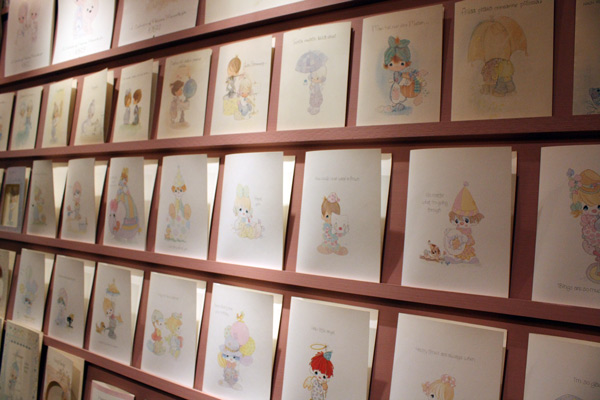 In order to have product to display and sell, Sam quickly began preparing greeting cards featuring the children with the teardrop-shaped eyes he had been drawing for years for friends and family. Bill came up with the name Precious Moments, "and that's how it all began" Sam said.
"The cards were the product of a ministry that was rather personal to me. Through the years there were many people who had problems in their lives and needed someone to tell them, 'I'm here if you need me,' and I always felt I never like to push people. I want to be available but I don't want to push myself on others. So, my way was to do an individual greeting card. I found people really responded and would say, 'If you would do greeting cards like these so many people would be blessed.'"- Sam Butcher
Jonathan And David Greeting Cards
Sam and Bill viewed this upcoming convention opportunity as a greeting card ministry, a way for them to spread the message of God's love through the cards. Working day and night together they produced a brochure, buttons and greeting cards with inspirational sayings and the distinctive looking children for the convention. Some of their early cards can be seen at the Samuel J. Butcher Museum located at the Precious Moments Chapel & Gardens in Carthage, Missouri. The Chapel & Gardens are open year-round while the Museum is open late May through mid-August; visit the Precious Moments Chapel & Gardens website for more information and hours of operation.
As the pair made their way to California, Sam became nervous, fearful no one would like his artwork. Having heard Sam's anxieties before, Bill said, "Look, Sam: before we got here you were the one who was so convinced the Lord had opened this door for us and now that we're here you don't believe it! Well, I happen to still believe that God brought us here and He will take care of us. So, quit complaining. We still have a lot of work to do!"
And work they did.
The History Of Precious Moments: Meeting Challenges With Faith
On day one of the convention nothing happened for Sam and Bill. Because of this they decided to hand out the buttons they'd created. Word-of-mouth took over as people began asking where they could get the buttons; the Jonathan & David booth became a beehive of activity.
During the convention, they wrote around $10,000 worth of orders. They were so busy that people from other booths came over to help write the orders. They were a success! One evening after a celebratory pizza, Sam and Bill realized they needed serious money to fulfill their orders. They visited a bank with the orders as collateral and were promptly turned down for a loan. Next, they went to the Christian Businessmen's Association, who wished them success and said they would pray for them. Finally, and most importantly, they decided to put their trust in the Lord to provide.
The pair began creating their business together as though they had all the money needed, even though for all practical purposes, they did not. They endured hardships, but by the end of the first year all of their bills were paid. This was made possible by angels on Earth, such as the owner of a building who had workspace available for $300 per month but who dropped the rent to $40 when told Sam and Bill only had $43. "He told us when we got to doing better to let him know and he would raise the rent," Sam explained.
These miracles were becoming a reliable part of the Precious Moments story.
The Lord Provides: Angels Along The Way
There were many other angels along the way and Sam and Bill never forgot them when these people needed help. The eventual financial success of Jonathan & David allowed Sam and Bill to pay it forward, but first they had to learn the greeting card business, which wasn't a smooth road to travel.
The new business duo learned "the hard way" according to Sam, such as the time they sold Christmas cards to businesses in November instead of months earlier. Still, they persevered.
"The Lord always met our needs and at very crucial moments. Not always our wants, but He did meet our needs."- Bill Biel
Jonathan & David continued on even as Sam and Bill had to take the occasional odd job to survive. One year they painted Christmas scenes on store windows and garages to pay bills and provide food for their families; the soles of Sam's shoes literally tied on with string.
"We made all of the Christmas presents for our families that year," Sam recalled. They had trusted the Lord and put everything into their printing business.
Due to the enthusiastic reception they'd had at their first Christian Booksellers Convention, the principals of Jonathan & David decided that they should have a booth at the next year's event in Atlantic City, New Jersey. Sam and Bill created four Precious Moments posters for this show, which were enthusiastically embraced by the attendees. One of the most important chapters in the Precious Moments story was about to unfold.
From greeting cards to posters,"I use children as the subject matter because I feel they are the purest expression of innocence. It was Bill who encouraged me to do the Precious Moments children," explained Sam.
Bill was also the one who originally envisioned the Precious Moments children in porcelain bisque, according to Sam. But both men knew knew that they lacked the required expertise and the necessary finances to create such a product. It would take a miracle to make this dream come true.
The miracle walked through the Jonathan & David door in early 1978. Eugene Freedman, the president of Enesco Imports at the time, proposed a life-changing idea; He asked Sam and Bill if they would like to transform their artwork into 3-dimensional bisque porcelain figurines. And he had the money and the expertise to make it happen.
Once again, the close friends and business partners had put their belief and faith in the Lord. And as always, God had a wonderful plan. Their business would soon change forever, as the Precious Moments story continued to unfold.
Learn More About The History Of Precious Moments
You've just read Part 2 of The History Of Precious Moments. If you'd like to read more about our history, please click on a title below:
Part 1, Sam Butcher's Faithful Path To A Dream
Part 3, From Paper To Porcelain
Part 4, The Original 21 Figurines
Thank you so much for reading our posts, and may God bless you in all His miraculous ways.