The founder of Precious Moments and his business partners made
the faithful choice early on to let God run the entire show,
and the success they experienced after the public first saw the Original 21 Precious Moments figurines in 1979 was beyond their wildest dreams. In the end, the history of Precious Moments is a truly fascinating tale about the miraculous power of faith, love and friendship in business.
Precious Moments Figurines: From Giftware To Collectible Treasures

In the fall of 1978, Sam Butcher, Bill Biel and Gene Freedman introduced the first 21 Figurines to giftware retailers under the company name, Jonathan & David. Although the retailers did not have high hopes for product sales, they took a chance because of the excellent quality and stellar reputations of everyone involved. Believe it or not, these collectible treasures were not initially sold as collectibles, but as ordinary giftware!
" When we introduced the Precious Moments collection it was as part of a gift line, not as a collectible…Precious Moments figurines reached collectible status because of the response of the public. We had to bone up on collectibles and bring people into the organization who had expertise in that field. Actually, the success of the little figurines is the design-the inspired design through Sam's hands. The message, its sincerity and integrity and the ability of Sam to express his work through these childlike blessings is what makes the Precious Moments collectibles so successful." - Gene Freedman
In addition to being an active speaker in church, Sam Butcher's regular appearances as a story-teller and an artist on a well-known TV show made him an unusually impactful speaker. At an invitation-only gathering of Jonathan & David customers in Atlantic City in 1979, his charismatic way of sharing his faith and his mission moved the talkative crowd into stunned silence.
"When Sam began to speak, a hush spread over the auditorium. During one forty-five minute presentation, he spoke about the Bible and the crowd was spellbound. It was something very new and different. The audience was amazed" –attendee at the 1979 Atlantic City, New Jersey Precious Moments gathering

This winning combination of hard work, friendship, artistry, quality, charisma and most of all, faith resulted in a miraculous success story. In 1981, the first issue of the Precious Moments "Good Newsletter" optimistically predicted that the Precious Moments Collectors Club would be 5000 Members strong within 6 months. But in less than two years after the figurines hit the shelves of gift stores across the nation, there were tens of thousands of members of the Precious Moments Collectors' Club and by 1994, Precious Moments figurines had become a worldwide collectible phenomenon. No one except God could have predicted this explosive success story.
The Original 21 Precious Moments Figurines: That First Piece
From the remarkable friendship between Sam Butcher and Bill Biel, to the fateful first meeting between Gene Freedman and the founders of Jonathan & David, to the serendipitous synergy between Master Sculptor Yasuhei Fujioka and Founding Artist Sam Butcher, it's hard to find a more telling example of the fact that the goodness and reach of God's plans are literally beyond our capacity to imagine.
And it all began with that first piece.
Do you remember your first Precious Moments figurine? Were you a lucky birthday girl, or a happy bride? Did you receive a romantic gift from your husband that still makes you smile? Are you a Member of the Precious Moments Collectors' Club? Have you been to the Precious Moments Chapel in Carthage Missouri for the annual Family Reunion Event? Or are you just beginning your journey into the loving, caring, and sharing experience that is Precious Moments? Do you smile or get misty -eyed when you think about the first time you saw the exquisite artistry of a Precious Moments figurine?
Well, just imagine how it must have felt to Precious Moments Founding Artist Sam Butcher when he saw the first figurine prototype!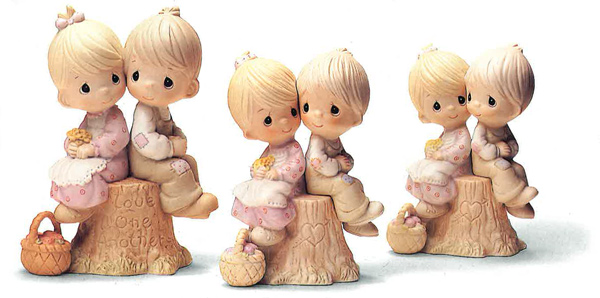 Sharing Visions with Heart: Sam Butcher and the Master Sculptor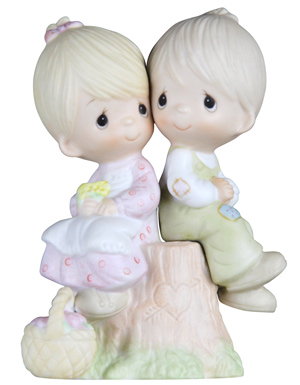 Sam Butcher flew to Japan shortly after he first saw "Love One Another," one of the Original 21 Precious Moments figurines.
Inspired by a mission to share the gift of love with the world, the talented duo worked for countless hours to perfect the soulful eyes and other signature details of Sam Butcher's original illustrations. In the end, they captured the childlike innocence and faithful spirits of the adorable Precious Moments children in masterful fashion.
Upon reflection, we can see that any language challenges between the Founding Artist Sam Butcher and Master Sculptor Fujioka San most likely enhanced, rather than detracted from, the beauty of these figurines. This special sharing of love and faith without so many words created a sacred space, where the founder of Precious Moments and the Master Sculptor shared the one language that needs no translation; the language of the heart.
" He has looked into my heart and his hands produce what he sees. I have the greatest admiration for Master Fujioka." –Sam Butcher
The Perfection of Imperfections: The Surprising History of Precious Moments Figurines
God Loveth A Cheerful Giver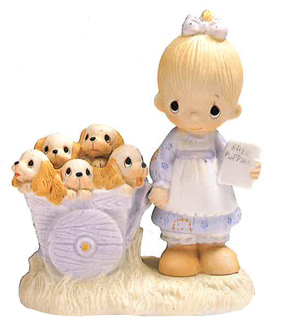 "God Loveth A Cheerful Giver", credited as one of the first two authentic Precious Moments Figurines along with "Come Let Us Adore Him", was inspired by Sam Butcher's heartfelt love and appreciation for his daughter, Debbie. He was creatively inspired when she brought home a boxful of kittens that were about to be euthanized.
"Daddy, do you have any friends who need a pet? I have some kittens here that I would be glad to give away for free!" - Debbie Butcher, Sam Butcher's daughter, the inspiration for God Loveth A Cheerful Giver

While her friends were spending their babysitting money on fashionable clothes, Debbie was spending her hard-earned money at the veterinarian's office. She was always dedicated to saving animals in need or helping out her friends. To illustrate the profound beauty of his daughter's generous ways, Sam created the adorable figurine, God Loveth A Cheerful Giver.
One precious imperfection on this figurine is an extra s in the sign advertising puppies for sale. "Free Puppiess" is an adorable misspelling; As with so many things in life, this imperfection seems to make the original figurine even more appealing!
Make A Joyful Noise: Honk If You Love Jesus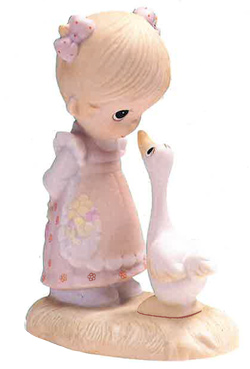 Sam Butcher was inspired to create Make a Joyful Noise on a drive down a country road with his business partner Bill Biel. Bill honked the car horn in response to a bumper sticker that said "Honk If You Love Jesus".
The woman driving the car likely forgot that this bumper sticker was on her car because she gave the men a dirty look and apparently said a few unkind words!
Undeterred, Sam and Bill pointed to the bumper sticker and honked again. That innocent action only elicited more of the same reaction from the woman!
Surely this woman would be mortified if she realized her mistake. As always, though, God had a plan. In a parallel with real life, that awkward incident inspired something beautiful; Make A Joyful Noise has moved people to laughter, tears and prayers for decades. By the way, the original name proposed for this humorously joyful figurine was Honk If You Love Jesus!
While the original Make A Joyful Noise figurine is only available at the Precious Moments Gift Shoppe, you can buy a phone case that features Sam Butcher's original illustration for this classic figurine.
The Original 21 Precious Moments Figurines: Inspiring Love
Prayer Changes Things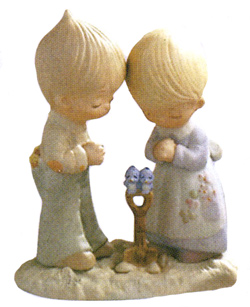 Precious Moments figurines have inspired far more than an appreciative chuckle or a cheerful memory. In fact, some Precious Moments fans have reported that Sam Butcher's heartfelt messages inspired them to save their marriages!
One young man was walking through a department store with a heavy heart, thinking about his impending divorce. He paused when he noticed Prayer Changes Things, one of the original 21 Precious Moments figurines. Although the inspirational message about prayer touched his heart, the young man did not make a purchase.
After he returned home, the young man was unable to get the image of that Precious Moments figurine out of his mind. Eventually, he returned to the store and purchased Prayer Changes Things. He placed the Precious Moments figurine on his kitchen table, where his wife would see it when she returned home.
When the young man's wife saw the sweet message about the power of prayer, she picked up the figurine and cried with relief. Deeply moved by this reaction, the young man began to cry with her. Finally, the young couple embraced and promised to work on their marriage.
Of course, Sam Butcher would credit that miracle to God, not himself.
"Although I don't know your need – or if you have one- I do know that no cloud is too heavy that it can hide us from the face of He who cares" – Sam Butcher
Love One Another
Sam Butcher created Love One Another when he was inspired by the sight of his young daughter Tammy and her uncle sitting together on a simple tree stump.
This popular figurine is still in production today! You can see the love in the soulful eyes of this nostalgic Precious Moments couple, We are reminded that God's miracles are present in ordinary interactions and everyday activities.
"A new command I give you: Love one another. As I have loved you, so you must love one another."- John 13:34
The Original 21 Precious Moments Figurines: Yes, You Can Still Find Them!
Just take a moment to contemplate the depth of love and faith that has been shared by these beautiful gifts. Sam Butcher and Master Sculptor Yasuhei Fujioka created the first Precious Moments collection with hearts and minds that had been touched by God in a very special way.
Although 20 of the Original 21 Precious Moments figurines have been retired ( Love One Another is still available at PreciousMoments.com), you can still inquire about the possible purchase of any of the Original 21 figurines from the Precious Moments Chapel Gift Shoppe in Carthage, Missouri.
The titles of the Original 21 Precious Moments figurines and their item numbers below: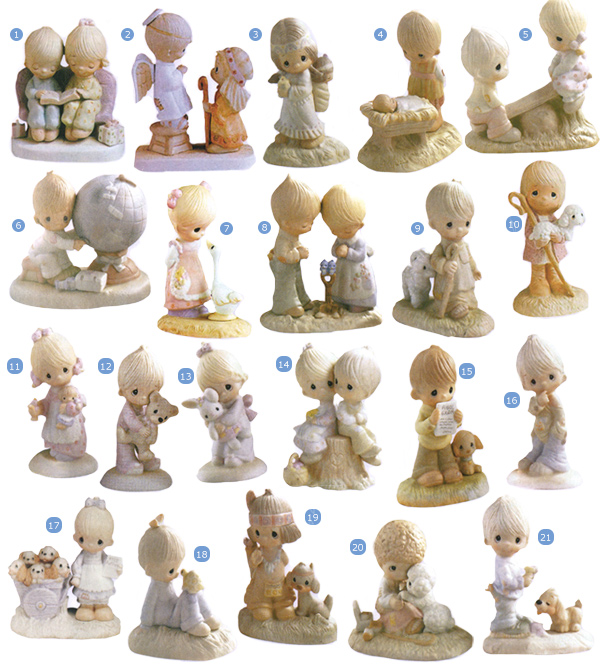 The Complete List of The Original 21 Precious Moments Figurines
Unto Us, A Child Is Born (E-2013)
Jesus Is Born (E-2012)
His Burden Is Light (E-1380G)
Come Let Us Adore Him (E-2011)
Love Lifted Me (E-1375A)
Jesus Is The Answer (E-1381)
Make A Joyful Noise (E-1374G)
Prayer Changes Things (E-1375B)
He Leadeth Me (E-1377A)
We Have Seen His Star (E-2010)
Jesus Is The Light (E-1373G)
Jesus Loves Me (Boy) (E-1372B)
Jesus Loves Me ( Girl) (E-1372G)
Love One Another (E-1376)
God Understands (E-1379B)
Smile God Loves You (E-1373B)
God Loveth A Cheerful Giver (E-1378)
Love Is Kind (E-1379A)
O, How I Love Jesus (E-1380B)
He Careth For You (E-1377B)
Praise The Lord Anyhow (E-1374B)
In Conclusion: Thank You
In conclusion, we want to say thank you for being with us on our mission to share God's gift of love with the world. The miraculous history of Precious Moments would simply not exist without you.
"I don't look at my work as an individual effort, but as a joint expression that reaches out to others. Without God's help my work would have no meaning. Somehow when one attains success, he soon forgets how he got there. We are not an island unto ourselves." Sam Butcher
Learn More About The History Of Precious Moments
You've just read Part 4 of The History Of Precious Moments. If you'd like to read more about our history, please click on a title below:
Part 1, Sam Butcher's Faithful Path To A Dream
Part 2, The Founding Of Jonathan And David
Part 3, From Paper To Porcelain
Thank you so much for reading our posts, and may God bless you in all His miraculous ways.