The History Of Precious Moments, Part 5: The Faithful Journey To The Precious Moments Chapel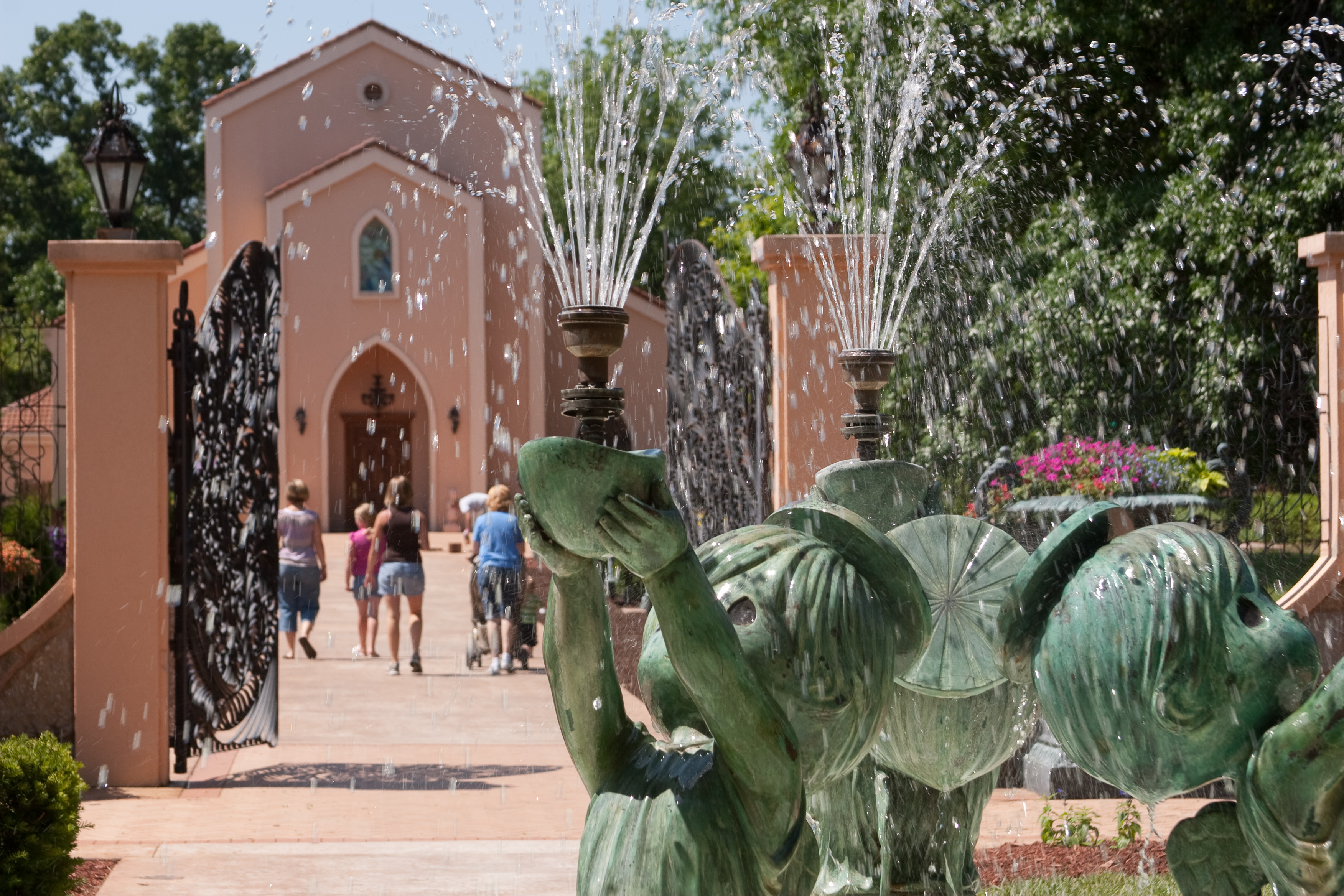 The Precious Moments Chapel in Carthage, Missouri is one of the most meaningful tributes to the Lord that artist Samuel J. Butcher has ever created. While this chapter in the history of Precious Moments is truly remarkable in every way, faith plays the most important part. Mr. Butcher's total trust in God's plan has clearly played a role in every phase of the Chapel's life, from the very first glimpse of a dream to what it is at this very minute. Lovingly referred to as "the Sistine Chapel of North America" this jewel in the Ozarks is Mr. Butcher's humble gift to God. This heartfelt testament to God's goodness continues to offer peace and inspiration for everyone who visits. The creation of the Precious Moments Chapel is surely one of the most important chapters in the history of the Precious Moments brand.
Now, let us introduce you to a man with a dream, on a road trip with God.
The Founder Of Precious Moments Lets God Lead The Way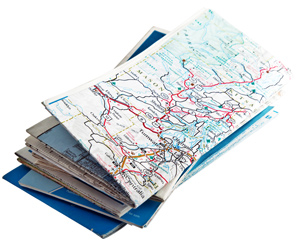 In January 1984, with no mapped-out route in mind, Sam Butcher searched in earnest for a new home as he drove from a trade show in a Western state back to his house in Grand Rapids, Michigan.
As a truly faithful man, Sam trusted the Lord to lead the way, even when he was discouraged. Although not with him on this trip, his wife Katie helped greatly by praying every night for God to lead her husband to the right place for their new home.
The founder of Precious Moments truly had no idea that after many unexpected twists and turns, God would eventually lead him to the small town of Carthage, Missouri, where he found the perfect home for his family and his dreams.
Read on to learn more about Sam Butcher's truly miraculous "road trip with God" and some fascinating stories about the Precious Moments Chapel.
The History Of Precious Moments: Sam Butcher's Inspiration For the Precious Moments Chapel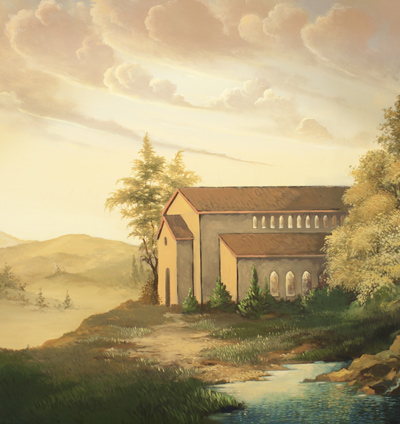 The move to a new location was not Sam's decision to make alone. He called his wife, Katie each evening from states where he stopped for the night. In anticipation of her husband's life-changing journey, Katie hung a large map on the wall. When her husband called home, Katie would mark his current location on the map and pray. She asked God to bless her husband's search for their new homestead with His guidance and direction.
Katie knew this was a tall order as the new place was to have more than just a house; it would also be a place to fulfill a dream inspired by Sam's trip to Italy and a place to raise her children.
"When I was in Milan, I drove up a small hill, going through a plaza, and there I saw a little Chapel. Immediately I told myself, 'I'm going to build a chapel just like this one.'"- Sam Butcher, describing his inspiration for the Precious Moments Chapel
The Founder Of Precious Moments Follows God's Plan to Save A Mission
A Faithful Christian Journey
Sam was disappointed in the lack of results during the early part of his driving journey. He was exhausted after hours on the road. Even with his strong faith, he was beginning to get discouraged. Still, there were bright spots before his eventual discovery of the location for the Precious Moments Chapel.
In New Mexico, Sam Butcher passed through an impoverished town with several buildings in disrepair. When he was nearly 20 miles past the town, Sam heard an internal call to turn around and head back. He didn't know if it was the Lord's voice calling to him but he had a feeling. He didn't want to take a chance on ignoring what he felt in his heart to be true so he turned his car around and headed back to the town. Was this the place he was intended to make his new home?
When he arrived back at the town, Sam didn't know where to go or what to do, as he came upon an old dirt road. Following his heart once again, he turned down this road, which led him to a dilapidated building in the middle of the desert.
A Simple Question
As Sam sat in his car wondering why the Lord had led him here, he took his checkbook out of his briefcase and put it in his shirt pocket with no idea why.
Greeted by a weary gentleman, asking if he needed help, Sam replied he honestly wasn't sure why he was there. The man offered a tour of the small schoolhouse building and Sam was instantly overwhelmed to see Precious Moments artwork on the walls and coloring books on the tables.
In an almost unreal twist of fate, Sam realized the man taught the children with some of the materials created early in his career! When the minister showed Sam his own work, the artist chose to stay quiet. He did not reveal his identity, choosing instead to remain humble. Instead he asked a simple question.
"What would it take to put this building into the condition it needs to carry on your work?"
The man replied that the amount that he requested for the school was $3,000.00.
A Generous Gift
With that confirmation, Sam immediately gave the administrator the full amount without hesitation. Crying with relief and gratitude for this totally unexpected generosity, the man asked Sam for his name, who he can praise with this generous gift.
The founder of Precious Moments replied simply:
"Just tell them a man who came by the way."- Sam Butcher

Sam Butcher was deeply grateful for God's leadership after this meeting. That unpredictable turn down a remote dirt road led him to help children inspired with God's words. After all, teaching children about God's holy word was one of Sam Butcher's greatest desires in life.
You can see by this story that the history of Precious Moments is really the story of faithful journeys and generous hearts.
The History Of Precious Moments: Sam Butcher Follows God's Plan In Missouri
When you learn about the history of Precious Moments, you are sure to understand that God's miracles happen in the most unlikely places at the most unlikely times. It's almost as if God likes to surprise us with His goodness, as a way of reinforcing our faith.
Having just crossed into Missouri, Sam Butcher felt discouraged as he drove under an overpass, but then something remarkable happened.
"I was going under an underpass near the town of Carthage when I felt this incredible feeling. I really felt something holy in the car. I was so affected by this feeling, I drove off the road and parked. I had such a quiet and amazing feeling. I knew in my heart what was happening. The Lord was showing me this is the town where I would build the Chapel." - Sam Butcher
The Founder Of Precious Moments Chooses Carthage, Missouri As The Location Of The Precious Moments Chapel
The following morning while sitting in a local diner, Sam sketched the vision in his head into his sketchpad. With a pencil drawing of a chapel on a hill nestled in a valley of trees with a creek tucked into his pocket, he found a real estate office to begin his property hunt. Once inside, he showed the real estate agents a drawing of his vision for his new beautiful family home. When he added in his request for rolling green hills, a running stream, and a cave, the agents reacted with understandable skepticism.
After all, the man before them in paint stained jeans couldn't possibly have the money to purchase such a property. In addition, the agents specialized in commercial real estate, not Ozarks countryside homes. Therefore, none of the agents offered to show the humble founder of Precious Moments a property, and Sam started to leave, feeling a little embarrassed.
Finally, a semi-retired agent named Mel Brown came to the rescue. He introduced himself, asked to see the drawing and proclaimed "I know the place you're looking for young man. If you'd like to come with me, I'd be delighted to show it to you."
As the men talked in the car, it became clear to Sam that Mel Brown was a fine Christian gentleman. He confirmed his thoughts when he and Mel came across a road sign for "HH".
"What is this HH Highway?" Sam asked.
"I've always called it the Highway to Heaven," Mel responded.
Neither man knew at this moment that they would become lifelong friends.
Sam Butcher Buys The Land For The Precious Moments Chapel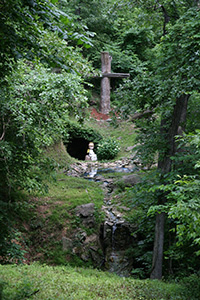 When he arrived at the potential property, Sam knew he had found his future home. He immediately visualized the Precious Moments Chapel on the hillside surrounding this Ozark meadow.
In addition, a creek ran through the property and yes, there was a CAVE! The good Lord had certainly guided Sam Butcher to the right place! It is hard to imagine more evidence of God's goodness.
Sam moved his family into the stone farmhouse soon after that miraculous turn of events. The farmhouse would eventually be remodeled and expanded with an exterior fashioned after the Italian architectural style Sam admired earlier in Milan. Construction began on Precious Moments Chapel with that same Italian style in 1985.
A Beautiful Tribute To The Precious Moments Chapel; Poetry By Sam Butcher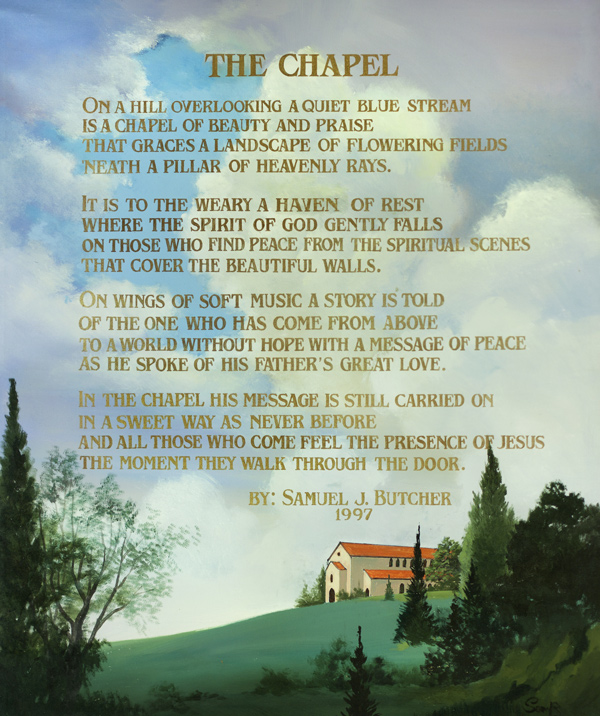 The building that Sam dreamed of creating to glorify God's name would soon take shape. He wrote this poem in honor of his gratitude to God for His gifts.
The History Of The Precious Moments Chapel Has Only Just Begun
While this is the 5th post about the history of Precious Moments, it is just the beginning of stories about The Precious Moments Chapel. You can look forward to learning about the inspiration for the Chapel's intricately carved "perfectly imperfect" doors and other incredible details in future posts.
The founder of Precious Moments has experienced his share of challenges, including the loss of two precious children. Through it all though, God was always by his side. This blessed support provides Sam with the strength to complete his noble missions to this day.
Sam Butcher has called the Chapel his life's work and he never expects it to be completely finished. How can it be when God's work is never done
"I want people who come to the Chapel to feel the spirit I believe really dwells inside it; that they sense the feeling of the nearness of the Lord." - Sam Butcher
Learn More About The History Of Precious Moments
You've just read Part 5 of The History Of Precious Moments. If you'd like to read more about our history, please click on a title below:
Part 1, Sam Butcher's Faithful Path To A Dream
Part 2, The Founding Of Jonathan And David
Part 3, From Paper To Porcelain
Part 4, The Original 21 Precious Moments Figurines
Thank you so much for reading our post, and may God bless you in all His miraculous ways.